4 Major Challenges Faced By Manufacturers And Solutions To Them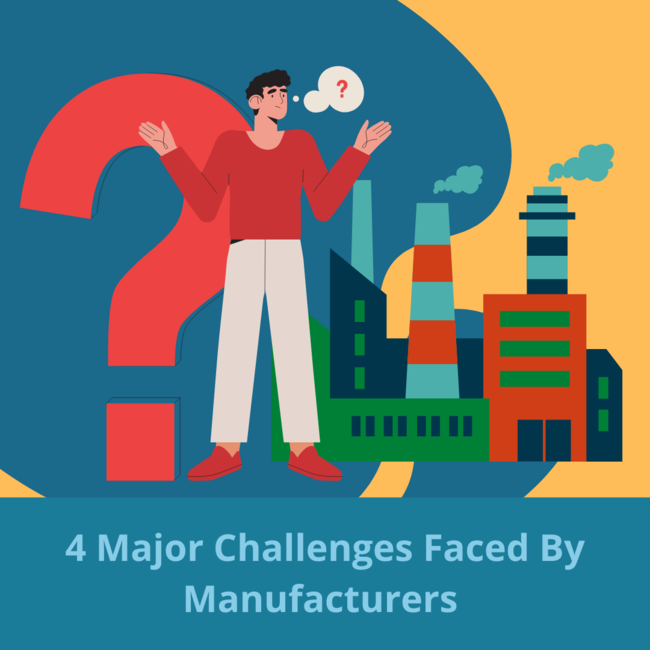 Manufacturing challenges are not uncommon for businesses. However, how you deal with them is what defines whether your business will stay afloat. In this blog, we learn four common challenges manufacturers are compelled to deal with and offer viable solutions.
Major Challenges Faced By Manufacturers In The 21st Century And Solutions To Them
1. Effective Inventory Management
Challenge
Disorganized inventory is one of the most common issues and the one with the worst impact on the production process. Disorganized inventory happens because most manufacturers at the onset of their business rely on excel spreadsheets to track and control their inventory. While excel spreadsheets are apt for small businesses, they are ineffective for medium to large-sized manufacturers.. Theyoften find themselves dealing with missed orders because of miscalculated raw material stock or a deadstock of unsold items.
Solution
Introducing inventory management software into the manufacturing workflow allows you to have better control over inventory, avoid issues such as understock or dead stock, and manage your manufacturing process more effectively.
2. Direct selling
Challenge
Online shopping has evolved into a massive sales channel. For the manufacturers, this means that they can avoid intermediary sellers and sell their products directly to the consumer. However, this also means more work, such as making sure logistics is configured properly and customers can easily place orders on your website.
Solution
An order management system is highly recommended to make order handling easier for manufacturers. An online order management system allows customers to place orders, both small and bulk, through a system that is customized to the specifics of your business. An online ordering system is a way to simplify your order management procedures and make the ordering experience easier for your customers.
3. Automation
Challenge
Automation and AI are engulfing the manufacturing industry. According to research, it is expected that the size of the global industrial automation market will grow to $297 billion. Not all businesses are ready for automation. This is due to the fact that automating a part of the production process most of the time requires the rest of the business to be adjusted to the changes, and that, as many know, takes time and resources. However, as technology advances and the world is gearing more and more towards automation, it will become hard to compete for those who refuse to adapt to the changing market.
Solution
Automation is the solution and it may come in various forms. You can introduce robots into your manufacturing process, or you can simply enhance your business processes by implementing appointment management and scheduling software. These software will help you keep track of and never miss an important event. Inventory management software, which we discussed above, is also a powerful automation tool. The inventory management system automates all or a part of the manual tasks allowing you and your employees to focus on processes that bring more value to the business.
Automation not only helps businesses streamline their manufacturing processes, but also allows those who implement the new technology to be industry leaders.
4. Low efficiency of existing manufacturing processes
Challenge
Making sure your business is as efficient as possible is a never-ending process. From improving your manufacturing lead time to ensuring unmatched product quality, every part of the manufacturing process needs to be thoroughly planned and controlled to achieve perfection. However, relying on old-school management methods or on outdated and disparate on-premise software will eventually lead to multiple disruptions in the manufacturing process. This may further be the reason why your business falls behind the competition. As you know, an efficient business is a successful business.
Solution
Vestra Inet's custom ERP software is a system that encompasses all aspects of a manufacturing business, from accounting and inventory to order management and sales and so on. It is a powerful tool that helps businesses operate more efficiently while reducing their operational costs and bringing higher profits. Vestra Inet offers custom-designed ERP software that acts as a boost to your existing manufacturing processes making your business more efficient. With Vestra Inet's ERP you will be able to:

Automate your workflow to reduce staffing costs
Simplify the workload for your employees and improve their experience
Utilize the data analytics tool to gain valuable business insights
Integrate existing software with it or add new modules as your business grows

ERP software is the go-to solution for businesses looking to streamline their operations. It gives businesses the technological advantage they need as well as allows them to stay ahead of the competition.
There are a number of challenges businesses have to overcome on the way to becoming successful and profitable. The first step on the way to tackling those challenges is screening your business for any weak spots and then finding effective solutions for them. Vestra Inet is a trusted custom ERP software development company serving industrial and commercial clients for over two decades. We build software products that allow our clients to peek into the future of their businesses. Schedule a consultation with our experts today and see your business grow.