5 Key Outcomes of Integrating ERP Into Hospitality Business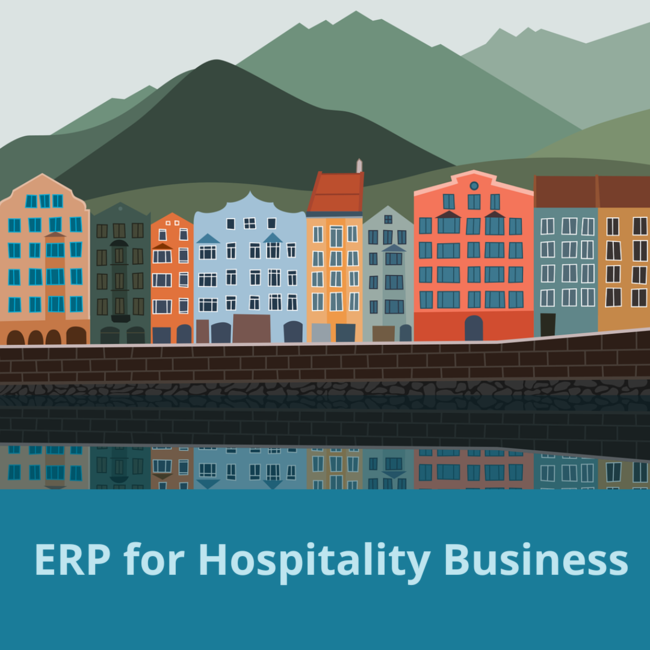 Hospitality is one of the industries that suffered the most during the pandemic and also the one that started to pick up quickly in recent months. The consumer demands in the hospitality sector are slowly returning to the pre-pandemic levels, driving businesses to improve their resource management in order to meet these demands. While industries such as manufacturing and healthcare are already reaping the benefits of custom ERP software, the hospitality industry is only in the early stages of exploiting it. In this blog, we discover the key outcomes that a hospitality business can gain from integrating ERP software.
What is ERP?
An enterprise resource planning is a type of software that helps to manage and control all business processes in real-time from one single platform. It provides synchronization across all business departments making it easier for business owners and managers to control and oversee the operations of individual departments. ERP software offers multiple benefits to the hospitality sector.
Key Outcomes of ERP In The Hospitality Industry
Enhanced customer satisfaction
Hospitality is all about serving customers, and the way you serve your customers and address their concerns will define your business's future. A custom ERP solution consolidates all customer data from various departments into one system allowing businesses to provide better and faster customer service. Moreover, with an ERP system, businesses can provide personalized services to their clients by tracking their tastes and preferences and offering targeted deals.
Boosted employee efficiency
When tasks like room change, proper stock levels, customers check in/check out, liaison with contractors and suppliers, catering etc. are managed from one place, staff and managers don't feel as overloaded as they would if they were to manage these tasks manually. An ERP allows them to dedicate more time to more value-bearing tasks and make more informed decisions.
In addition, ERP software allows business owners to save time and costs on training employees. Rather than working with multiple systems, staff can now be trained to work with a single software that manages all hospitality operations. This allows employees to focus more on core tasks resulting in enormous time and cost savings for businesses.
Better reservation management
These days, customers have an opportunity to book a room in a hotel or a service in a spa from multiple sites, whereas businesses - thanks to ERP - can control their reservations using a single system. ERP software allows businesses to effectively manage their reservations and view occupancy rates. It also allows them to predict future reservation trends thanks to its data analysis module.
Improved overall operational efficiency
With ERP, tasks like room change, check in/check out, housekeeping, catering, wake-up service etc. are managed and controlled from a single platform making it easier for managers to delegate them and for staff to see what has and hasn't been done. Whether it's a hotel, spa or resort, an ERP will optimize everyday operations resulting in happier customers, employees and higher revenues.
Less stress for head office
ERP software is a central management hub that allows businesses to manage and oversee all hospitality operations such as housekeeping, catering, CRM and accounting to name a few. This is especially valuable if a business has multiple hotel/spa locations to manage. It also allows businesses to collect and analyze data across all departments and turn it into actionable insights.
The value of ERP software cannot be underestimated. It is a helpful tool in making sure all business departments work together seamlessly providing benefits to all stakeholders.

Vestra Inet is a Toronto-based custom software development and marketing company that has been serving clients for almost two decades. Aside from the best-of-its-kind custom software solutions, we also provide consulting services to make sure your integration with new software is as seamless as possible. Speak to us today to learn how we can help you take your business to a new level.