5 Reasons to Opt for Custom ERP Software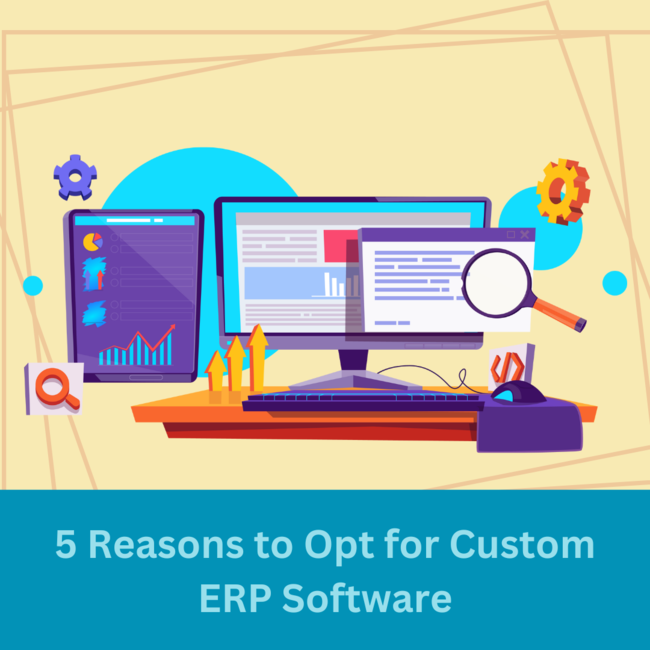 Custom ERP software has gained popularity in the last few decades and remains the preferred way among managers to optimize business processes. According to Finances Online, 48.40% of businesses reported improvements in core business processes. While this number is significant, some managers are not yet ready for the transformation and often fail to grasp the real value of benefits they could have gotten if they had agreed to that change. If you are one of those who hesitate, this blog will ease the strain of doubts for you.
Why Opt for Custom ERP Software?
Custom-built to meet your requirements
Customizability is what sets custom ERP from the ready-made one and any other software solution for businesses. When you buy a ready-made system with a set of pre-selected modules, chances are some of the features will be of no use to your business. Unlike a ready-made solution, custom ERP has the exact features your business needs and will utilize, so in the case of a custom ERP system, all the functionalities it comes with will pay off.
Flexibility in terms of adapting to changing needs
Custom ERP is a highly-flexible business solution. You can ask the vendor to craft a system that is tailor-made to your requirements and have additional features added with time as your business grows. A ready-made solution, on the contrary, comes with a pre-selected set of features that can't be altered.
It is also important to discuss with your vendor the amount of flexibility they provide in terms of adding new functionalities. Some custom software development companies in Toronto offer ready-made ERP systems with a certain degree of flexibility, while others, like Vestra Inet, offer fully customized solutions that adapt to every individual business's needs.
Helps gain a competitive position
Custom ERP software will make you stand out among your competitors while adding a sense of uniqueness to your business. Not only will it help you gain a competitive advantage - what's more important is that it will streamline your business operations, speed up your workflow and improve your bottom line.
Ensures integrated workflow
Custom ERP software will substantially boost your workflow by integrating all processes within your company with each other. It acts as a central control panel that stores all your business data and allows you to manage all internal processes from a single platform. It also allows your employees to access critical data anytime from anywhere. This translates into an improved and better-managed workflow.
Saved costs
The cost of an ERP system is what can make you doubt that the system could save you any money at all. However, it's only that sticker shock that's not letting you see how much you could be saving in the long run. Staffing is one of the areas where you can save the most. As mentioned earlier in the blog, an ERP system allows your staff to access information quickly and easily, saving them lots of working hours. Moreover, your employees will need to be trained to work with one single system rather than multiple, which also means less time spent on the learning and more time allocated to more important tasks.
Bottom line
Custom ERP software is surely an investment that requires time before you start seeing deliverables. However, the long-term benefits of implementing the software far outweigh the initial cost. If the process of ERP implementation is what scares you off, read our blog on eight tips to make new ERP system integration as seamless as possible.