6 Benefits of Custom ERP Software For a Food & Beverages Manufacturing Business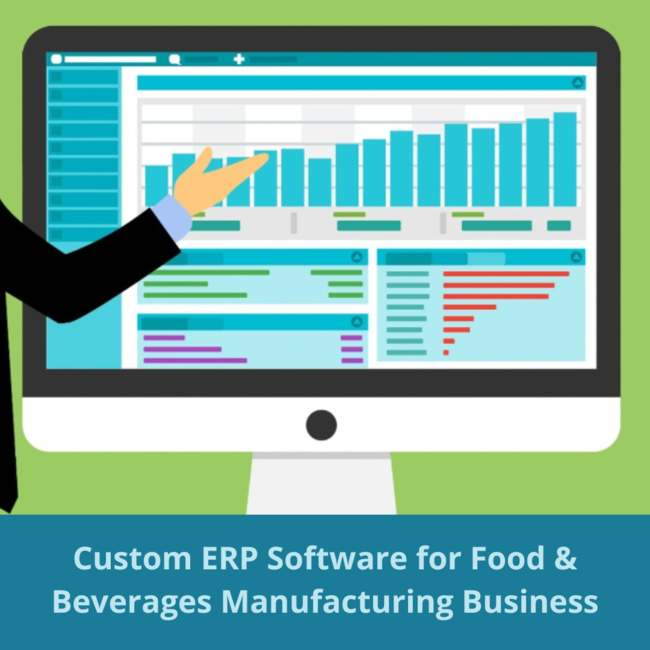 With the ever-increasing global food demand, the need to optimize and have greater control over the food and beverages manufacturing processes is only growing. The dynamic market competition and the quality standards set by the consumer make ERP software an indispensable part of every food & beverages business. On top of that, strict government regulations are making it almost impossible to run business operations without an ERP software.
In this blog, we will highlight some of the most essential reasons why food and beverages manufacturing businesses will benefit from custom enterprise resource planning software.
ERP Overview
A custom-designed enterprise resource planning (ERP) software is a tool that allows businesses to consolidate all manufacturing related processes into one platform. An ERP software allows businesses to have a greater control over the processes involved into food and beverages manufacturing such as stock management and tracking, quality control, data management, accounting, logistics, customer relations etc. The benefits of an ERP software cannot be underestimated, and here are the reasons why:
Benefits your food and beverages business will get from ERP software
Provides comprehensive control over the production processes
Manual record-keeping or using a basic production software may be sufficient to run a small size food and beverages manufacturing facility. However, as the business grows, its operational demands expand, requiring the owner to implement a more complex resource planning software to better manage all the aspects of everyday operations. A custom-designed ERP software acts like a consolidating platform, gathering all data into one easily accessible data hub. This allows business owners to trace every step of good's manufacturing process to spot and eliminate any issues in the manufacturing chain. It also provides a greater visibility of all manufacturing processes, allowing business owners to gain actionable insights and improve their decision-making.
Ensures accurate stock tracking and management
Keeping track of the stock is crucial for every food and beverages manufacturing business, as running low on stock may result in loss of potential sales, while having an overstock of unused perishable materials will lead to wasted resources. With an ERP software in place, you will be kept abreast of what's going on with your inventory. An ERP will ensure you are not running low on important ingredients and will also minimize material waste.
In addition, a custom-designed ERP can have a built-in projection tool that will allow you to predict the demand, so you can update your stock accordingly.
Assists in keeping up with government regulations
Another reason why an ERP software is an invaluable tool is that it ensures you stay on top of all current food safety regulations, allowing you to be ready as ever in the event of an audit. With an ERP, you will get access to all the necessary business information instantly. You will be able to track not only what's in the product, but also what other ingredients the product may have been in contact with - this makes an ERP software a valuable tool in managing sensitive issues such as intolerance of some allergens
Saves costs on labor
Humans tend to make mistakes. But in the food & beverages industry especially, even a small mistake can cost a brand its reputation. A custom-built ERP software allows you to automate some manually performed tasks, which helps to avoid mistakes and saves time and labor costs. With an ERP software, you can automate processes like safety inspection and quality assurance measures, so you can get yourself busy with other more important tasks.
Enhances customer relationships
The ever-growing consumer demands drive high-quality standards. To ensure your customers get the best quality products and excellent service, you need to make sure your business operations are streamlined at every stage, including CRM. With a CRM module integrated into your ERP, you can manage all aspects of customer interaction, from transactions to responding to individual requests, and share this data across other ERP modules.
Improves your competitiveness
Food & beverages is a very competitive industry where a business needs to exceed all expectation in order to stand out. Integrating an ERP software that is custom designed to your food and beverages manufacturing business is one proven way to outdo your competitors.
One more important thing to add about a custom-built ERP for the food and beverages industry is that it is highly scalable, meaning its functionality can be expanded to align with your ever-growing business.
Food & beverages manufacturing is a multilateral process that requires constant inventory and process supervision. A custom-designed ERP software is an invaluable mechanism of any food & beverages business as it allows business owners to gain insight, visibility and control over the entire business operations while investing the time and resources in the aspects that really matter.

At Vestra Inet we specialize in custom ERP software development in Toronto. With a custom ERP software for food and beverages, your business processes will be optimized, resulting in sales boost and revenue increase. Get in touch with us today to learn more on how we can help you grow your food and beverages business.