6 Signs Your Business Needs an ERP System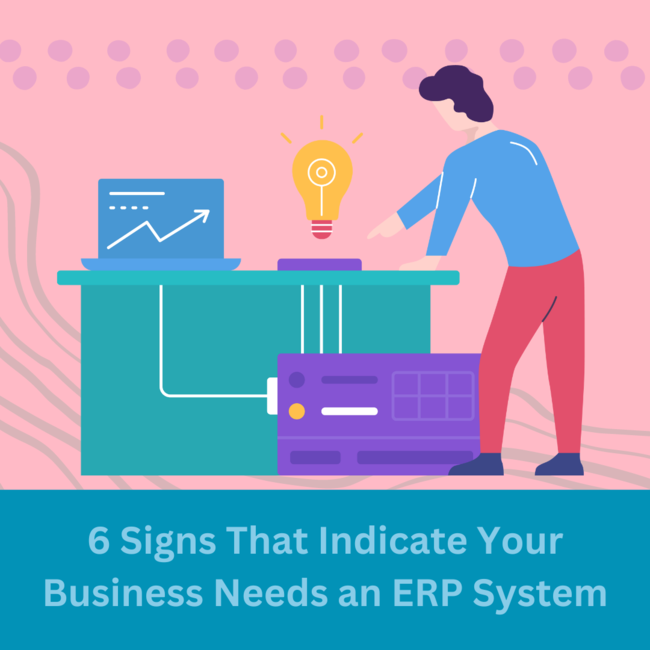 Custom ERP software is known to be a great process optimization tool. However, it is also an investment and an undertaking at the same time. If you are still in doubt about whether or not to invest in an ERP system, read this blog to learn about 6 signs that indicate it's about time.
Here are signs your business is ready for ERP software
Your business processes rely on little to no automation
If the majority of tasks within your business are performed manually, this is an indication that it's time for an upgrade. Why is automation so important? Because it's a global trend already adopted by most of your competitors. According to the World Economic Forum, 42% of the time spent on manufacturing tasks will be automated using robots in 2022. Even though robots are not the main topic of this blog, the idea remains the same - automation is engulfing the global industry and there is no way back.
Data management has become a nightmare
As data is the core of any business, it is important to keep it organized for effective process management. However, when spreadsheets are the only tool you use to store, access and manage your data, data control turns into chaos, affecting the overall business processes. Custom ERP software is able to store all critical business data, allowing for quick and easy access to information from anywhere anytime.
You have no unified software to control day-to-day-activities
Managing larger-scale businesses requires more resources and effort as there are finances, sales, production processes and customer relationships that require constant and rigorous oversight. When all processes are in disconnect, it becomes complicated to manage your business processes effectively. Custom ERP acts as a centralized platform that integrates all processes into one system, allowing CEOs and executive managers to better oversee daily activities.
You are unable to keep up with customer demands
If your inventory levels are unable to keep up with your customer demands, it's a clear sign that you are in need of business software. Custom ERP software can come with a built-in forecasting tool that allows you to accurately predict sales and stock levels and make informed decisions when it comes to restocking your inventory. It can also integrate with inventory management software that tells you exactly when your stock is running low on materials or goods.
Your customer reviews dropped
Your customers' loyalty is what makes your business thrive. So when you observe a significant drop in customer ratings or a decrease in sales numbers, it's a sign that your business needs an upgrade. Custom ERP software is just that upgrade that will significantly improve your daily business operations and help you win your customers' loyalty back.
Your business runs on outdated software
Disparate legacy IT systems are one of the most common reasons why businesses experience a slowdown or fail to keep up with recurring industry trends. Substituting your old-school systems with unified custom ERP software will help you gain better control of your business and explore more opportunities for growth.
With a surge of technology in the 21st century, businesses are compelled to choose between keeping up with the trend or sticking to old business management methods. And the majority of the time, choosing the latter leads to a certain level of stagnation. A custom ERP system will help you avoid such situations.

Vestra Inet is a custom software development company in Toronto offering customized business solutions for businesses looking to streamline their operations. For over 20 years, we have been helping clients in industrial and commercial sectors scale and expand their operations. If you are looking for software that can take your business to the next level, give us a call today and schedule a free consultation with one of our software consultants.