6 Ways Healthcare Industry Can Benefit From Custom ERP Software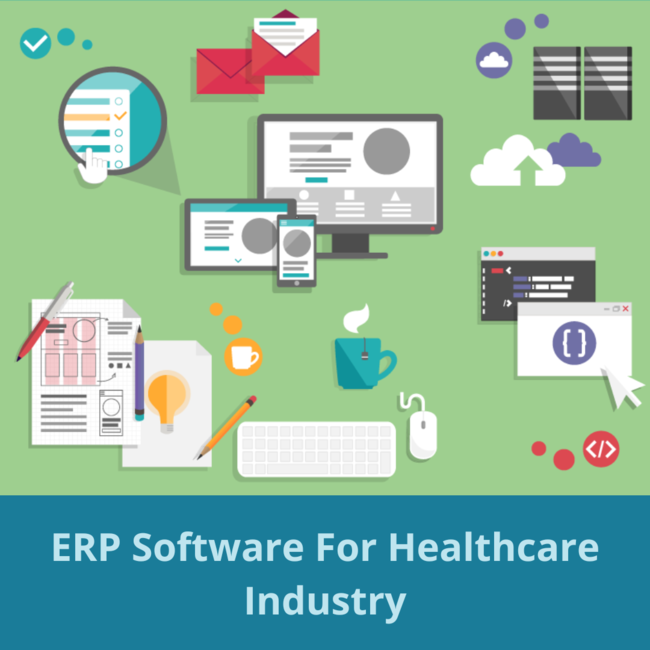 Tackling global pandemics like COVID-19, innovation in the healthcare industry is on the rise like never before. This has made reliance on cloud technology to become a requirement rather than a choice for healthcare providers. Using on-site disparate and outdated software to manage day-to-day operations is a burdensome task. Moreover, with better healthcare management demands constantly increasing, corporations are bound to transition to more comprehensive and reliable software to effectively manage day-to-day operations.
In this blog, we will discover 6 benefits of custom enterprise resource planning (ERP) software in the healthcare industry.
ERP Overview
An enterprise resource planning (ERP) software is a multi-purpose resource planning software that acts like a centralized platform from which all company's processes are managed and monitored. It allows companies to manage and control operational processes and exchange data between various company departments while ensuring data security. ERP software is widely used in the healthcare industry as it can be custom-built to meet the specific industry requirements.
Benefits Of Integrating Custom ERP Software Into The Healthcare Industry
Allows automating manual processes
Custom ERP software for healthcare allows companies to automate some of the manually performed tasks. This results in reduced staffing costs, optimized employee time and increased employee productivity. For instance, automating payroll information input such as punch in/punch out times and calculating tax deductions will reduce the time accountants would otherwise spend doing this task manually. Another example is when patients require post-discharge care. A custom ERP solution assists doctors in sending their patients a reminder about medication or prescription pick-up as well as reminders about upcoming appointments.
Eliminates human-made mistakes
Automating some of the manual work routines eliminates the chances of human mistakes and discrepancies, such as appointment mismanagement. If appointment scheduling is automated, the chances of missed or overlapped appointments are minimized. This feature of ERP software is particularly valuable for the healthcare system where accuracy is the highest priority.
Improves the security of patients records
The confidentiality of patients' medical records is of utmost importance for every healthcare provider. 18 major cyber-attacks were recorded in Canada between July and December 2021 with healthcare being the industry that was targeted the most. The manual data transferring between multiple systems and poor maintenance of each system is what makes the healthcare system so prone to cyber-attacks. A custom ERP software with its reliable security system will reduce the risks of cyber attacks protecting your patients' private information.
In addition, ERP software also ensures easier access to patients' records compared to manual records management.
Streamlines patient care
Optimizing the entire organization's workflow leads to improved patient care and better communication between the departments. For instance, integrating an ERP inventory control module allows for better maintenance of stock in every department resulting in less time spent searching for the supplies and more time dedicated to patient care. With the automation of some of the administrative tasks, employees can also spend more time taking care of patients.
Facilitates compliance with government regulations
Compliance with government regulations is of utmost importance for any healthcare provider. A custom-built ERP ensures the transparency of all aspects of the organization, ensuring traceability and easy access to any documentation. With a custom ERP system, all information is within hand's reach in case the government wants to conduct an audit.
Overall optimization of operational processes
Custom ERP software acts as a central hub for a company's operational processes. Various ERP modules assist in managing processes like inventory, billing, patient records, supplies, finance and human resources. With the ERP, the data stored in various departments can be exchanged in a matter of seconds making the company's operational processes as optimized as they can be.
Healthcare is a business too, so deploying custom ERP software to level up its operational efficiency will benefit all stakeholders, especially patients. In addition, custom ERP software allows a healthcare business to stand out among its competitors and provide outstanding care to its patient

Vestra Inet is a premier custom software development company in Toronto serving the digital needs of businesses of all sizes. We put our clients' needs first ensuring they get the highest quality product and outstanding customer service. Speak to us today to see how we can help your business thrive.