Achieving Seamless Communication with Custom Software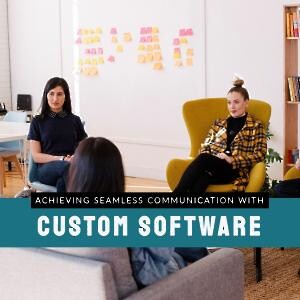 Effective internal workplace communication can offer inherent value in both implicit and explicit ways. Having in place a system in which different personnel, teams, and levels of management can communicate with each other when it comes to tasks, production, and projects can lead to more efficient and productive outcomes. Establishing a central chain of communication among employees will lead to increased transparency, enhanced efficiency, and an improved employee work culture.
Luckily, when opting for custom software development in Toronto like calendars and appointment management systems – you can discuss what sort of communication channels would make the most sense based on your business's needs.
Today we'll discuss the ways in which custom software development in Toronto can lead to more effective communication between internal staff.
Increased Transparency
Choosing custom software as a way to enhance internal communication, also inherently improves workplace transparency. The use of calendars and appointment management software allow for users to access resources such as management schedules, upcoming meetings, internal group events, etc. quickly and effectively. With features like internal broadcast systems, and custom notifications – staff can stay informed when it comes to daily business events.
Improving Employee Work Culture
Better communication leads to a better, more efficient work culture. Having a central platform for communication among all employees can minimized the likelihood for miscommunication to occur. Using calendars and appointment management software allows employees to access the information they need so they can focus on the task at hand – without having to seek additional information from other communication channels.
Software Development in Toronto
If you're looking for a custom communication-based software solution, look no further than Vestra Inet. We are experienced in designing powerful organizational software solutions such as calendars and appointment management systems that can be fully integrated with existing systems (i.e. CRM, ERP, Accounting, etc.). Our calendar and appointment management systems include features such as scheduling, reminders, and custom event support to ensure improved information sharing internally. For all your custom communication and organizational software needs, call Vestra Inet today!