ERP Testing: What Is It and Why Is It Important in 2023?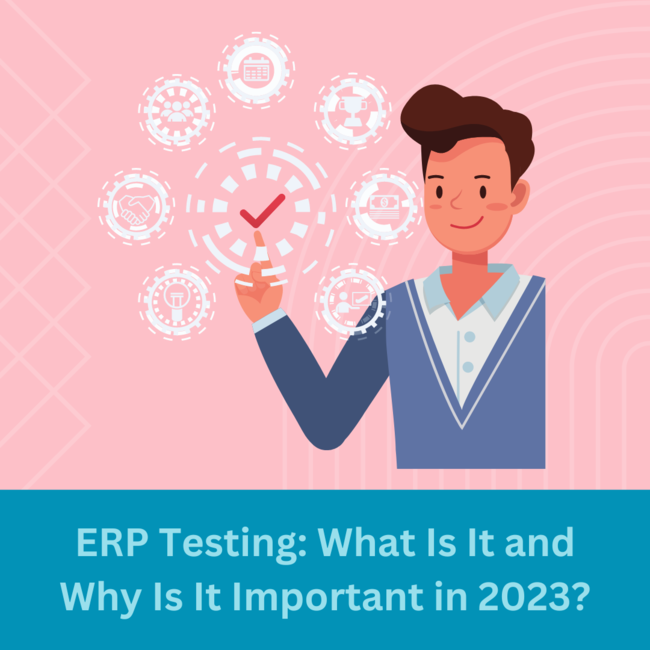 Enterprise Resource Planning (better known as ERP) is the software businesses use to manage their day-to-day activities. It might seem like just another application you use for appointment booking or keeping track of your tasks, but in fact, it is much bigger than that. ERP software is a comprehensive system that helps companies manage virtually all of their operations. And just like a vehicle needs to be tested for reliability before it goes out on sale, ERP software needs to be tested too before you can launch it. In this blog, we will look into one of the most crucial stages of ERP implementation - ERP testing.
What Is ERP Testing?
ERP testing is the process of verifying whether the ERP system is configured well enough to be able to go live. It is essentially a screening process that allows custom software development companies to spot any flaws within the system and take proper steps to eliminate them.
Why Is ERP Testing Important?
Would you agree to drive a car that has never been tested for safety and adequate functioning? Probably not. The same goes for ERP software. ERP testing is a quality assurance process that ensures the software is ready to handle the vast amount of data it's going to be entrusted with.
ERP application testing is important for the following reasons:
It ensures the system is fully ready to be launched
It allows developers to identify the bottlenecks that can hinder the software's functioning before the launch
It reduces the chances of the software's post-launch failure
Significantly reduces implementation times
Testing the ERP system before making it live is just another precautionary measure that gives you peace of mind that the software is ready to handle the business operations.
What Are the Phases of ERP Testing?
ERP software testing is a whole other planning process itself. The testing is conducted in three phases. Let's review each of them closer below:
Preparation - This phase involves a lot of planning and analysis. This is when the scope of work is identified, test data is created, a test system is set up etc.
Execution - This phase involves the actual execution of the test, either manual or automated. It allows the developers to identify the system's inconsistencies and log them in to further address them.
Evaluation - During this phase, the test results are evaluated and an action plan is created.
ERP Testing Techniques
There are several ways to test an ERP system:
Functional - The goal of this test is to make sure each module performs as expected.
Integrated - Integrated testing requires in-depth knowledge of the company policy as well as functional and domain knowledge of the software. The focus here is the accuracy of the data.
Performance - The goal of performance testing is to see how the software performs in high-demanding situations. Even if you won't expose the system to high loads, it's important to ascertain its optimal functioning if unordinary situations occur.
Security - Security testing ensures that the end-to-end data is securely stored on the servers.
Automated testing - the goal of automated testing is to check the automation modules for proper functioning.
Many companies choose to do a phased rollout of ERP software. That way, they can tackle bottlenecks as they emerge.
Challenges in ERP testing
1. Creating a test plan
Testing the software without a proper plan in place can often drag on the ERP software implementation for months and result in a delayed project launch. To avoid this, the deadlines set by the client can serve as a starting point for any ERP testing plan. Knowing when the system is expected to be launched allows custom software development companies to create a roadmap for testing.
2. Assigning a test team
Relying on your full-time employees to conduct ERP testing is not always a good idea. They are already busy with their everyday tasks, so loading them with additional responsibilities will put extra strain on them and affect their regular workflow and the testing process. ERP software testing requires a dedicated team to manage and supervise the process. You will need to assign different managerial roles as well as break down the employees into teams so that every team is responsible for a specific testing aspect.
3. Tracking and analyzing test results
This is always the biggest challenge. Proper data collection and analysis will further determine how well the system will function and how effective it will be for the business. A dedicated team that can conduct ERP software testing is the key to successful data collection and analysis.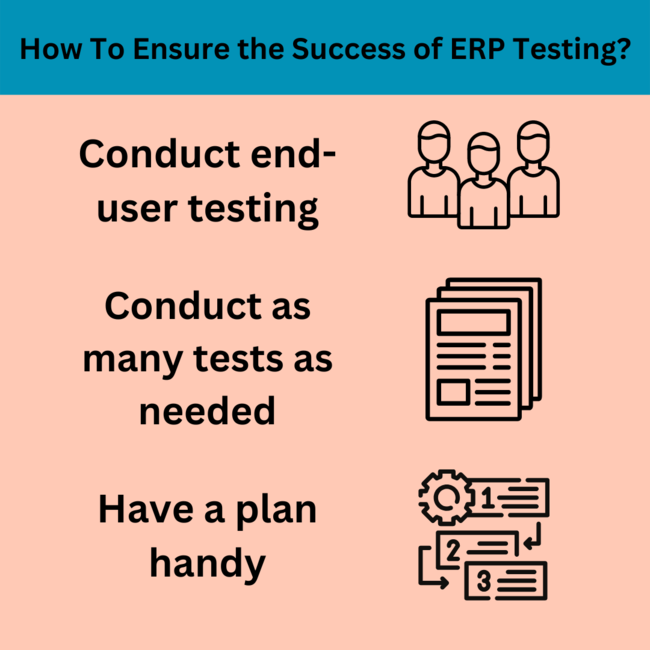 How to Make ERP Testing Successful?
The success of the ERP system implementation depends on how well the ERP testing was conducted. Below are some tips on how to make your ERP system testing a success and ensure the software is sleek.
Conduct end-user testing - It is important to allow real users to test the system. This way, the developers will be able to see the software in action. In addition, real users are the only audience that can suggest the best enhancements to the system.
Conduct as many tests as needed - Given that ERP software is a complex unit with multiple modules, it needs to be tested multiple times in order to ensure each and every aspect of the system has been looked at.
Have a plan handy - Just like you have a plan for implementing ERP software as a whole, you need to have a separate plan for ERP software testing. With a plan, the process will be more organized and much smoother.
The takeaways
ERP software is a relief for many companies. It makes managing your business easier and more organized. ERP testing is an important step in the software implementation process which you should never try to skip. When extensive testing is done, you can rest assured you won't have to look back at manual data management.