Everything You Need To Know About Manufacturing ERP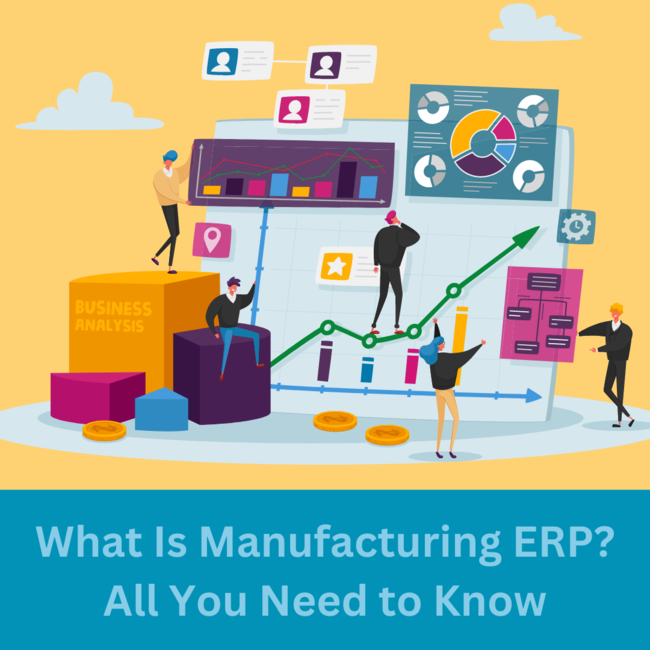 Manufacturing is an industry that relies heavily on manual work. It is one of the reasons why business owners look for automation solutions to simplify the process. Manufacturing ERP is one such effective solution. You may already be familiar with generic ERP (Enterprise Resource Planning), but manufacturing ERP is a little different, so let's take a different look at it.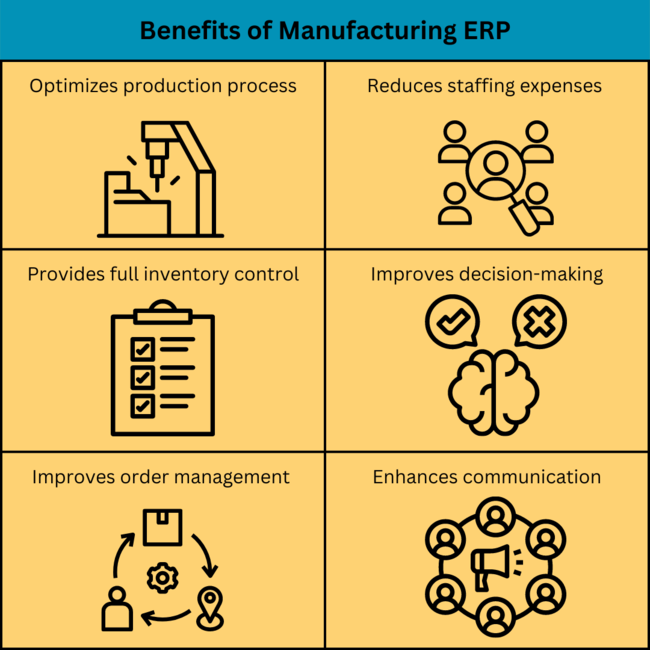 What is manufacturing ERP?
It's a system used by businesses producing tangible goods. Businesses use ERP for manufacturing to streamline their production processes, reduce manufacturing lead time, minimize errors, and increase profits. The functionalities that come with ERP for manufacturing are built taking into account the specifics of the production process. At the same time, most ERP solutions for manufacturing can easily integrate with a business's existing software such as accounting and inventory management.
Why do manufacturing companies need ERP?
In the last two decades, ERP systems for manufacturing have become more of a requirement rather than a choice due to the ever-evolving technological advances as well as high market competition. While some companies are pretty good at keeping up with digital innovations, others are hesitant to implement new technologies for reasons such as cost or fear of setbacks. However, in situations like this, the benefits always outweigh the risks. ERP software for manufacturers helps businesses manage, track and automate their operations. It is a powerful management and automation tool that allows business owners to oversee the entire production process starting from the shop floor to the shipment of ready-made products. It is also a collaborative platform that connects every step of the manufacturing process, simplifying the operation of the manufacturing shop floor. ERP for manufacturing is a tool for businesses of all sizes, regardless of their trade turnover and the size of their facility.
Types Of Manufacturing ERP
ERP systems for manufacturing can be divided into three categories.
Generic ERP software for manufacturers includes standard modules that support the operations across the entire business. These include order management, CRM, warehouse management, finance/accounting and an inventory management system. This list can be expanded as the business grows, meaning that if at any time you feel like one of your business processes could benefit from digitization, your software provider can integrate a corresponding module into the existing system. Generic ERP systems are suitable for any business regardless of the industry.
Software built exclusively for manufacturing businesses
This type of process manufacturing ERP software comes with a set of features that help with managing the shop floor processes or scheduling machine maintenance.
Industry-specific manufacturing ERP system
These systems are built to the specific requirements of a business (for instance, food and beverage or steel manufacturing). Their features are more focused on improving the production process and making it more efficient. Features like inventory management or accounting are not usually included in the industry-specific manufacturing ERP. However, they can be easily integrated as an add-on to the existing system.
Custom vs. Off-the-shelf Manufacturing ERP
While both types of software help manufacturers achieve the same goal - to optimize manufacturing processes - ready-made and custom process manufacturing ERP software differ significantly in terms of features and the way they integrate with business processes.
Ready-made ERP software for manufacturers comes with pre-selected functionalities. They are "mass-market" systems targeted at most common business operations such as financing, accounting, production, scheduling, inventory etc. They are easy to install and allow for a preview of how the business will perform on the basis of this software. However, a ready-made ERP system provides little flexibility and comes with little to no ongoing support. For instance, you'll be required to pay extra for any additional functionality you add as your business grows. Another drawback of an off-the-shelf system is that it requires a business to adapt its processes to it. However, when investing in software like this, you want it to be the other way around - the software adapting to your business processes.
Custom manufacturing ERP, on the other hand, constitutes a solution where each and every feature is built according to the specific needs of the manufacturing business. When you opt for a custom solution you pay for the features built exactly to your business.
You might have to break your budget for a custom ERP, but the benefits you'll enjoy in the long run are worth it.
Vestra Inet has been offering custom software solutions for over two decades. We offer efficient custom business solutions to clients in industrial and commercial sectors looking to scale their productions.
What Are The Benefits Of Manufacturing ERP?
The main advantage of ERP solutions for manufacturing is that they integrate core business processes, providing a 360° view of the processes involved in goods manufacturing. Why is this important? Because when your business grows, you want to make sure all processes and departments can keep up with the changes, align with each other and function together like clockwork. Let's have a closer look at the specific advantages of ERP systems for manufacturing businesses.
1. Optimizes production processes
Manufacturing ERP automates and streamlines production processes and increases overall efficiency across departments. Optimization is primarily achieved through automation. It allows businesses to eliminate human errors and ensure high accuracy. For instance, the system will make sure accurate order details are transmitted to the shop floor before product manufacturing begins.
2. Allows for full inventory control
Inventory management software can be a standalone system or a module that comes with the manufacturing ERP. Inventory management system is used to control internal and external stock movements in real time. The system improves supply chain management and procurement by allowing business owners to better monitor under- and overstock items and make important inventory-related decisions accordingly.
3. Improves order management
ERP system for manufacturing allows businesses to automate processes involved in work order management. Data such as customer name, product details and quantity, date and time of execution, responsible staff, and other information are fed into the system automatically, allowing managers and staff to easily access this data. This improves the efficiency and transparency of order management procedures.
4. Reduces staffing expenses
Anything that's done manually in the goods manufacturing process is error-prone. That's why manufacturing ERP has been introduced to automate manual tasks to reduce errors and improve product quality. Automation not only makes the manufacturing process more efficient and accurate but also enables business owners to save on staffing costs and focus more on value-bearing tasks for their business.
5. Improves decision-making
Data analytics is another useful tool that comes with the ERP system for manufacturing. It can also be added as an additional module along the way. Data analytics module enables manufacturers to generate data-driven reports on any aspect of their business operations (sales performance, profits, finances etc.) and further utilize it to make data-driven business decisions.
6. Enhances communication across departments
Manufacturing software systems integrate all business departments, ensuring greater synergy and data exchange. You will be able to see increased productivity and overall process efficiency when your sales, inventory, accounting and operations departments are effectively working in tandem.
Tips On How To Successfully Implement Manufacturing ERP Into Your Business
The key to successful software implementation is not really in the software itself, but rather in how well your business adopts it. Below are some tips to make the implementation process smooth and make sure the software you invest in performs to your expectations.
1. Define your goals
Before you even start shortlisting manufacturing software systems, you need to set your goals clearly. Knowing your goals will also help you understand whether a custom ERP system for manufacturing or a ready-made solution is better for your business.
2. Get employees involved
Your employees are the core of your business. They know many of the processes from the inside better than anyone. Based on their feedback, you can better understand what in the business requires improvement or would benefit from new technology.
3. Assign a dedicated team
You might be tempted to control everything. However, attempting to control the entire implementation process may result in undermanagement in different business aspects. Instead, assign a separate team to control the implementation process. This way, they will report to you and you will be able to have a better picture of how things are going.
4. Get support from a software provider
Ongoing support is a perk of a custom manufacturing software system. You can always reach out to a software expert from the software company you opted for and ask them for help or guidance in uncertain situations.
5. Train your employees
Making sure your employees are familiar with and feel comfortable when using the new system is also important. After all, it's your employees who will utilize the system the most. Dedicate a generous amount of time for employee training and make sure everyone has mastered the new software to avoid any flaws in the manufacturing process in future.
6. Test the system before the launch
Testing is important for spotting any shortcomings before the system is officially launched. Let the software provider make any adjustments to make sure the system is flawless and is launched only when it's ready.
How Can Vestra Inet Manufacturing ERP Improve Production Process?
Vestra Inet offers custom manufacturing software systems built exactly to your business needs. We create software that wraps around your business processes, streamlining your operations and ensuring your business runs as smoothly as possible. Unlike ready-made solutions, our custom-designed software is flexible and includes only the features you need. When you are ready to scale up we can easily add more modules to the system you are already using.
We have in-house software consultants that can guide you on the variety of solutions and help you craft a system that's just right for your business.
Our clients in industrial and commercial sectors are already taking advantage of the solutions like custom manufacturing ERP software, inventory management, online ordering system, production management system, product configurator and more. We boast a portfolio of over 550+ completed projects and we continue to deliver high-quality services to our clients.
FAQs
What Is The Difference Between Generic ERP and Manufacturing ERP (industry-specific ERP)?
Generic ERP systems are built to meet the needs of companies across various industries. They often include basic features like accounting, inventory, scheduling, sales and CRM.
ERP for manufacturing is an industry-specific ERP system that comes with features specific to the manufacturing industry. Generic ERP features are also included in the manufacturing ERP package. However, the focus here is on manufacturing-specific modules such as inventory and order management. ERP software for manufacturing is usually developed by niche companies that know all the specifications of the industry.
What is the main difference between JIT & manufacturing ERP?
To understand the difference between these two business management models, it is important to know what JIT is. JIT stands for Just-In-Time and is a management strategy that involves ordering inventory right before it's needed the most. So, for instance, if you are a bike manufacturer, you will not keep all the parts in stock, but rather order them only at the time when they are needed in the manufacturing process. The primary difference between JIT and manufacturing ERP is that in JIT management strategy business does not keep an inventory of raw materials but rather receives it at the time of the product being manufactured. JIT strategy is an effective one as it allows to save big costs on inventory storage. However, it is also a risky one as the success of such a strategy depends on a number of external factors such as supply chain disruptions and more.
How ERP improves the scalability of manufacturing firms?
Manufacturing software is an indispensable tool for businesses looking to grow and expand their operations, or for those looking to fine-tune their existing operations. With manufacturing software, all processes within the business are in sync. Manufacturing software allows you to have a comprehensive view of your business and make informed data-driven decisions. Whenever the manufacturing process runs into a bottleneck the software allows you to easily spot it and take proper measures to fix it.
The cost of manufacturing ERP software
The cost of the software largely depends on its type (custom or ready-made) and the features included. The key factors that influence the cost are modules, initial implementation fee, number of users, and training and ongoing support. A basic system will start at $50-$100 a month and will include some of the crucial features. This type of software will be useful for small to medium size businesses. The cost of a larger industry-specific manufacturing ERP system starts from anywhere between $5,000-$10,000 paid upfront with additional maintenance and upgrade costs.
The Takeaways
With the ever-evolving innovations in the digital industry, more and more businesses are compelled to undergo a digital transformation. Adopting the technology allows businesses to grow and stay competitive in the market. Implementing manufacturing software into your business can be one of the most effective decisions you could have ever made. Manufacturing ERP software may be costly and implementing it may take some time, but it will pay off in the long run.
If you would like to know how an industry-specific ERP system can integrate with your business processes, contact Vestra Inet and schedule a consultation with one of our software experts today.