Signs It's Time to Invest in Custom Software for Your Business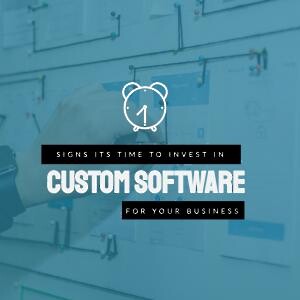 If you feel as though your business is growing faster than you can accommodate for, or daily tasks are becoming more burdensome than before – it might be time to invest in custom software development for your business.
Today we discuss the reasons why custom software is the solution you're looking for, whether it's addressing inefficiency and insufficiency when it comes to day-to-day operations, persistent recurring issues, or if you're looking to expand your business.
Why Custom Software Development?
Web-based technology has made performing daily business operations easier and more effective. Depending on business demands, automating previous manual processes are less time-consuming, more reliable, and fully customizable. The benefit of opting for custom-made software is that it can be designed to meet the unique needs of your business. Why settle for anything less?
Signs It's Time to Invest in Custom Software
Inefficient and Insufficient Daily Operations
Do you find that performing everyday business operations is a time-consuming process? Or do you find that your current business system ineffectively meets consumer demands? Prolonged downtime due to inefficient and insufficient business operations can end up costing you in the long run. Luckily, custom software can enhance efficiency by addressing previous business inconsistencies and streamlining business processes.
Persistent Recurring Issues
Are there issues you've just avoided addressing due to how busy daily demands are? Or are you just unsure on how to approach the issue at large? Don't limit overall business efficiency by focusing on recurring issues. By choosing a custom software solution you can properly address those issues so you can concentrate on what's most important for your business.
Planning on Expanding
If your business is growing faster than you can accommodate for, automating various business processes might be a means to ease the growing pains. You'll want a software solution that can expand with your business without limiting overall workflow. Effective access and integration of current systems and enough room to grow down the row is essential for continued business maturation. Opting for software development might just be the answer your business is looking for.