Top 3 Questions to Ask Your ERP Provider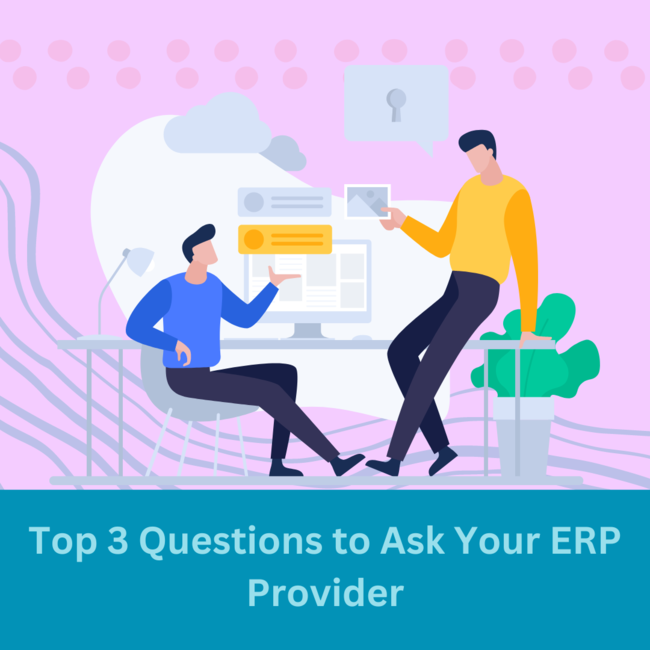 ERP systems are no doubt an investment. Aside from being somewhat expensive, ERP systems take time to properly integrate with your day-to-day business operations before you start seeing a return on your investment. To help ease your doubts and gain more confidence when shopping for custom ERP software, we have put up a list of questions you should be asking custom ERP software providers before making your selection.
Questions to Ask ERP Providers Before Investing in ERP Software
What are the costs associated with custom ERP software implementation and maintenance?
The price of the software directly depends on the capabilities that come with the software. It is important to discuss the pricing with your provider to have a clear picture of what you are expected to pay for the software and to avoid any misunderstandings down the road. Particularly, ask your provider the following:

What are the initial costs associated with implementing custom ERP software?
What are the ongoing maintenance costs?
Are there costs associated with the replacement or update of existing legacy systems?

Having the answers to these questions, you will know what to budget for when buying an ERP system for your business.
How does the software keep up with the ever-evolving technology trends?
There's always something new for businesses to explore in the digital innovations market. Ask your provider how they keep up with and adapt to the constantly changing technology trends. In addition, ask them how flexible their solution is and whether it is capable of scaling up as your business grows. Industry-leading custom software development companies offer solutions that are built to meet the specific needs of a business and are capable of adapting to ever-evolving business requirements.
What services are included in the basic package?
The majority of ERP solutions, mostly the ready-made ones, come with pre-selected features such as accounting, inventory management, CRM etc. Ask your provider what features have been pre-selected and come in a standard package. Find out whether you can request more features to be added. It is important to remember that any additional modules will come at an additional cost. That's why custom ERP software has been widely adopted by businesses. Custom ERP systems come with features that are specifically built to meet your business requirements, so the total cost of your software is revealed to you right away.
These are some of the most important questions you need to ask software vendors. Of course, you will have more to ask along the road as you collect information from different vendors. Many custom software development companies, such as Vestra Inet, have in-house software consultants that know all the specifics of implementing custom ERP software into a business's day-to-day operations, so they will be able to provide you with their insights taking into consideration all the specifics of your business.
Vestra Inet is a leading custom software development company based in Toronto. For over 20 years, we have been providing custom software solutions to industrial and commercial businesses. Our software helps businesses grow and stay ahead of the competition. Contact us to receive a free no-obligation consultation or to learn more about our services.