Top 5 Risks Of Using Outdated ERP Systems In 2023

Back in the days, on-premise software was the most popular type of software among businesses. Everything about it was unique and exciting, from its simplicity to its robustness. The most attractive thing about it was that companies could have 100% control over the entire software and the data in particular. However, as the time and technology progressed, what was once viewed as the holy grail of the ERP software industry is now being phased out by more advanced solutions.
Even if you find your existing ERP system to be the best of its kind, it still gets outdated with time and thus requires a replacement (or an update, at best). But what do you do if you are not ready for a major software overhaul? Well, in that case, be prepared to face ERP risks that come with using outdated ERP systems.
The good thing is you still have time to consider a complete ERP software overhaul. And while you do that, we have prepared a list of 10 ways that an outdated ERP system can hinder your business operations and why replacing it with a newer, customized solution is a better way to go.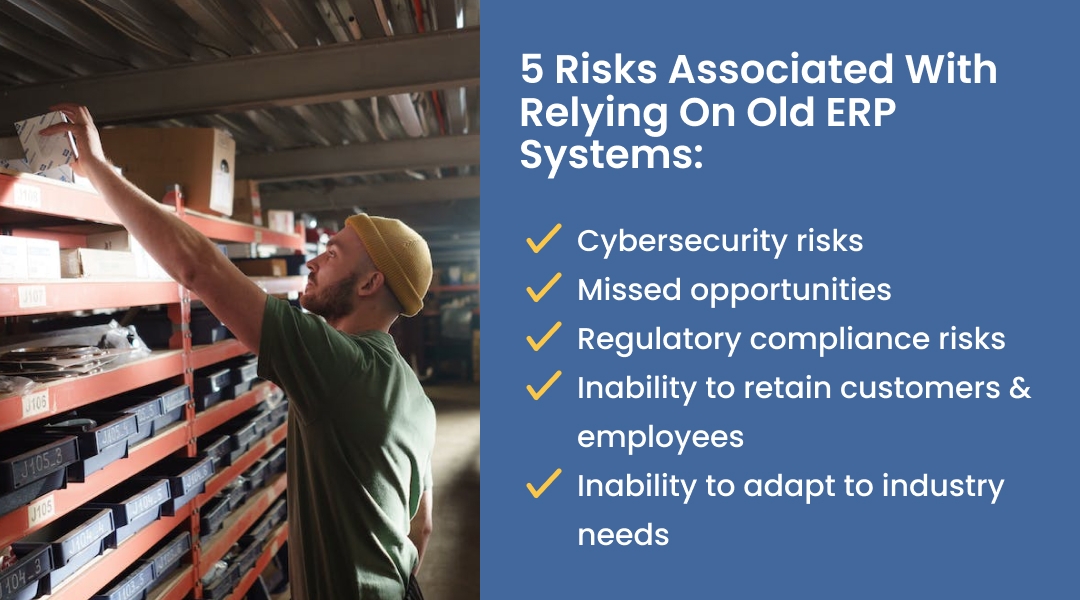 5 Risks Associated With Relying On Old ERP Systems
1. Cybersecurity risks
The importance of cybersecurity has been on the rise like never before. With the number of cyberattacks increasing year over year, it is important to seek for the highest possible level of cybersecurity in your ERP software and never try to cut corners on cybersecurity.
Old ERP systems are more prone to cyberattacks due to scarce upgrades (if any at all). Such ERP system vulnerability poses significant risks to the data stored on legacy ERP systems. When shortlisting your next custom ERP software vendor, consider cybersecurity as the main criteria for your selection.
2. Missed opportunities
When we talk about missed opportunities, we don't simply mean missed sales or business deals. A business reluctant to switch to a more advanced and agile custom ERP software is likely to miss out on the benefits of process automation, which in the present day is crucial for the growth of any business, be it small or large. It is missing out on the benefit of streamlined productivity, which is known to drive the bottom line of any organization. It is missing out on the benefit of centralized data management, which is known to save a great deal of time and thus improve the overall efficiency of the business. There is more to the missed opportunities, but these three are the most important ones, and missing out on them can pose a serious risk to the sustainability of your business.
Even if you are doing pretty well with your old ERP systems, the problem with them (often hidden) is that they lack agility - the quality that is present in all modern ERP systems. If your software can't adapt to the changing needs of your business, then it becomes useless bit by bit, eventually leaving you with no choice but to replace the entire software.
Modern world is dynamic, so is ERP software technology. Therefore, if you want your business to remain competitive and keep up with the ever-changing market demands, you will likely need to consider replacing your old ERP systems with something more agile and scalable, like a customized ERP solution.
3. Regulatory compliance risks
Old ERP systems often fail to comply with ever-changing regulatory compliance requirements such as data security, new tax and accounting laws, etc. Such an ERP system vulnerability can lead to penalties.
Switching to a modern ERP software will ensure your business runs on a software that is fully compliant with all the laws and regulations of the IT industry.
4. Inability to retain customers & employees
Another old ERP system vulnerability is that it is lacking the capabilities to collect and leverage customer data, and the capabilities of those that can do that are far from bringing the desired results. If your legacy ERP software cannot provide you with comprehensive customer data, you will not be able to create a product that caters to their needs, meaning you risk losing your existing customers and failing to attract new ones.
When it comes to employees, you, as a business owner, have the responsibility to make their workflow as easy and comfortable as possible. Replacing your legacy ERP software with a modern, custom-designed ERP is the most viable way to achieve this. Not only will this improve your employee retention rate, but it will also help optimize your company's overall workflow, leading to a better bottom line.
5. Inability to adapt to industry needs
Failure to adapt to industry needs is another ERP system vulnerability that hits those serving the manufacturing industry the hardest, and here's why: the manufacturing industry is one of the most rapidly changing, with new manufacturing technologies emerging annually, if not faster. Old ERP systems are unable to keep up with the pace, meaning businesses are falling short of meeting the demands of the market, yielding to the competition.
If you are looking to streamline your manufacturing processes, the first and foremost step is to modernize the software your business runs on. Look for an ERP system that is flexible and can scale with your business - the two critical features a legacy ERP system lacks, and also the two that are definitive of a custom ERP system.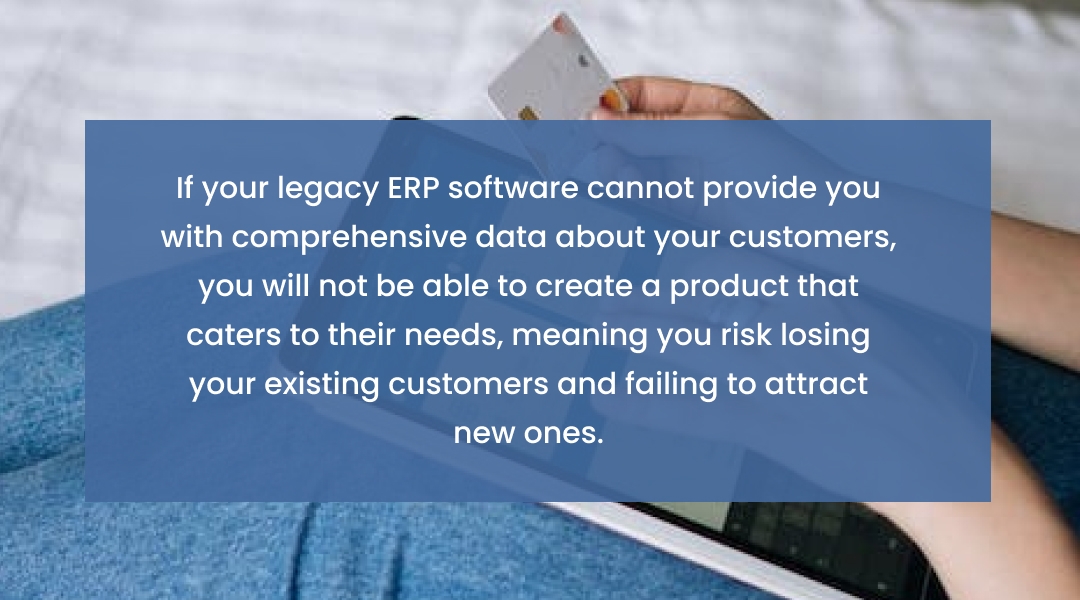 The takeaways
In the present day, on-premise ERPs are being gradually replaced by solutions that are more suited to catering to the constantly changing market demands.
And those reluctant to adopt the change are essentially undermining their business operations voluntarily.
We understand that switching to a modern custom ERP system is not a one-day task. It is a complex process requiring planning and thorough consideration. However, the ERP risks associated with sticking to legacy ERP systems can cost you much more than the switch to a newer and more effective solution. Start your transition with research, see what's trending on the ERP software market and get advice from an industry expert. This will provide you with a degree of confidence and make your ERP software transition as smooth as possible.
FAQs
1. Why is it critical to upgrade your ERP system?
Without timely and proper upgrades, your legacy ERP system becomes vulnerable to cyberattacks and other dangerous activities. Moreover, your business can incur significant financial losses and miss out on many opportunities to gain more customers. Among other things, upgrading or replacing your legacy ERP software will help:
Streamline business operations

Increase customer satisfaction

Improve employee retention rate

Lower expenses across all business processes

Improve the bottom line
2. How often should ERP be upgraded?
The frequency and volume of ERP upgrades is directly related to how dynamic your business requirements are. If you find that the existing ERP software can't keep up with your business needs, see if upgrades can be implemented. If so, compare the costs of upgrades with a full software replacement. Sometimes, the cost of a custom ERP system will equal to that of the upgrades, but with a custom ERP you get software tailored specifically to your needs.
3. How long should an ERP system last?
An average ERP software lasts between five to ten years without requiring major upgrades. However, the number of years a system can efficiently serve your needs should not be the main criteria for ERP software selection. Look for a custom software in Toronto that is flexible and scalable, as these are the two critical features that ERP software needs to have in order to cater to the modern business needs.
4. What are the common ERP system vulnerabilities?
The most common ERP system vulnerabilities are associated with security. They are the following:
Missed software updates (especially when they are required to eliminate malware risks)

Lack of issue reporting (employees fail to report a suspected security issue)

Weak ERP authentication (weak passwords, shared accounts and a lack of multifactor authentication)

Open network shares (when all network users have access to the ERP system folders; this is specific to legacy ERP systems).