Why Small Businesses Need ERP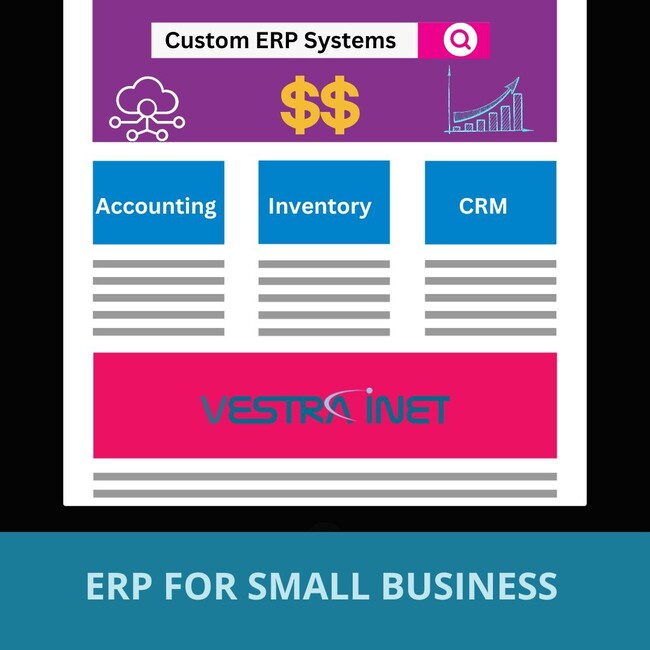 For many years, ERP has been perceived as a system suitable only for large enterprises or manufacturing facilities with millions of dollars in goods turnover. However, this is not completely true. While some businesses puzzle themselves with the question of whether small business ERP will bring the promised efficacy, others are already reaping the benefits of the technologies brought by the era of digital transformation.
The truth is that any business, small or large, will benefit from using an ERP system. In this blog, we will find out why small businesses can equally benefit from using ERP software. But first, let's learn more about small business ERP itself.
What is ERP for small businesses?
Enterprise resource planning software is a type of software that combines all features necessary to run a business into a single centralized system. ERP allows small businesses to manage and control all their processes in real-time. It's a comprehensive platform that also synchronizes all business departments with each other making it easier for small business owners and managers to control and oversee the operations of individual departments. An ERP system is also a powerful automation tool - something almost any small business could benefit from these days.
Is ERP the right solution for small businesses?
The answer to this question lies in asking yourself "Does your current system bring the desired results?" If not, then it's time to upgrade it.
ERP may seem like a big endeavour for small businesses to grasp, but in fact, any business, large or small, can benefit from using ERP. According to research, 48.60% of companies said they improved their key business processes while 37.10% indicated that they improved most of their business processes through ERP implementation. Another study indicated that 96% of emerging companies use ERP systems on some level. Let's have a closer look at the advantages ERP offers to small businesses.
Benefits of ERP software for small businesses
Any small business looking to increase its profits will hardly be able to achieve its goals without any sort of business management software. A small business ERP is just that type of software you need to streamline operations and improve production efficacy. Let's review some of the most significant benefits of an ERP system for small businesses.
Enhanced efficiency through automation
Small businesses and startups usually have a limited budget and technological capabilities, so most of the workload falls on the employees that are sometimes compelled to take on multiple job roles. And as manpower is the driving force of a business, overloading job responsibilities usually results in low job quality, overworked employees and overall inefficiency of the business. Because ERP is a powerful automation tool, it offloads some of the manual tasks of your staff and allows them to work more efficiently.
Optimized business processes
When your business relies on spreadsheets or any other on-premises software, the processes involved in the production of goods are discoordinated more often than not. The result - your business is disorganized with critical business data all over the place. This adds more work to your employees and negatively affects the overall performance of your business. Implementing small business ERP software will optimize your processes by providing centralized control over accounting, sales, CRM, inventory and all other departments, allowing you to spot the bottlenecks and tackle them immediately.
Increased throughput
The productivity of your business largely depends on the efficiency of your inventory management, which, if mismanaged, disrupts the entire production process. When you use spreadsheets to control inventory levels, issues like material under or overstock will pop up more often, delaying the entire manufacturing process. However, if inventory management is left to the ERP system to handle, you will be able to track your stock levels without much hassle and will not face any under- or overstock issues.
Big data collection and analysis
In the 21st century, big data is not just data. It is a valuable tool that businesses can use to make informed decisions. Another valued feature of small business ERP software is the ability to collect and analyze data to generate reports that provide you with insights into the performance of your business. This is an invaluable tool that can help you make better decisions and adjust your growth strategy if and when needed.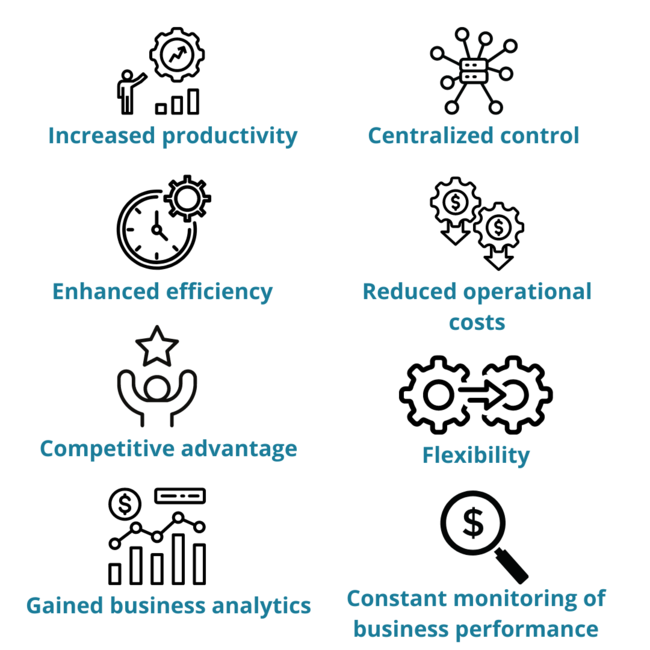 Constant monitoring of business performance
Ensuring the high quality of your products is probably the most important aspect of your business. However, being too invested in the impeccability of your product may result in overlooking no less important stuff such as adequate inventory levels or staying within the allocated budget. ERP is the technology that allows you to monitor the performance of all your business processes and access critical business data from anywhere at the moment you need it most. ERP ensures that your business is working like clockwork and nothing is missed.
Reduced operational costs
Being a great automation tool that saves your employee time, small business ERP also reduces the risk of human-made errors. These two advantages combined lead to a significant operational cost reduction and therefore improve your finance management. In fact, the statistics show that ERP reduces operational costs by 23% and administrative costs by 22%.
Flexibility
ERP can easily and seamlessly integrate with other platforms. So if you are already using accounting software and are not willing to switch to anything else, ERP can easily and natively merge with it. Likewise, it can be integrated from scratch as a full-fledged standalone software that includes all the features your small business needs.
Competitive advantage
These days, businesses have to go above and beyond to stay competitive in the market. Small business ERP is one of the tools that can help you stand out among your competitors. Implementing ERP into your business day-to-day operations not only will get you ahead of the competition but will also give your business a boost to scale up.
Frequently Asked Questions About Small Business ERP
Why should small businesses opt for custom ERP instead of off-the-shelf ERP?
To answer this question, it is important to understand the difference between the two. Off–the-shelf ERP is a ready-made system that offers pre-built modules for businesses to adapt their operations to. It offers the benefits of automation and a certain level of optimization. However, the problem with ready-made software is that it is a one-size-fits-all type of system, which means some of its features may not be completely suitable for your operations. You may end up using only a fraction of software features, but end up paying for the whole unit.
Buying ready-made ERP software involves no prior consultation with a business consultant regarding your specific business needs. As a business owner, you must consult with experts to make sure the software you purchase serves your business in its entirety.
Unlike a ready-made system, custom ERP is a system that is built specifically for your business requirements. It adapts to your existing business operations adding a level of technology that enhances all your processes. Another advantage of a custom ERP solution for small businesses is that you meet with a business consultant to discuss the gaps in your existing business operations and develop a strategy to bridge those gaps. This is not something that comes in the ready-made ERP package.
How much does ERP cost for small businesses?
According to Software Path's 2022 report, a business with 1-40 employees on average spends $8500 on an ERP system per user. However, this number varies depending on a variety of factors such as the size of the business, the number of features and the number of users among others. It is also important to know that the cost of ready-made software is different from the cost of a custom-built ERP. Because a ready-made ERP includes pre-built features, the cost is also fixed.
Unlike off-the-shelf systems, custom-built ERP will only have features that are fully suitable for your business. However, it is also important to know that adding additional modules is usually not included in the base plan. You will have to pay for any additional modules that your business may require as it grows.
Even though the cost is a deciding factor for many small business owners, there is evidence that ERP software does perform to its expectation. According to a report, 88% of businesses consider the implementation of an ERP system to be a success. So when you are contemplating whether or not ERP software is the right solution for your small business, remember that you are investing in new technology, meaning you are investing in the future of your business.
What signs indicate that my small business needs ERP?
Deciding if your small business needs an ERP system is not only about whether you are ready for it or not. There are signs within your business processes that indicate it's time for an upgrade. Here are some of them:
The number of dissatisfied customers has gone up. When your customers fail to receive the promised level of service, it's directly reflected in your business reputation. A CRM module integrated into the ERP system will help you tackle all customer-related problems and improve your relationships with clients.
Your business operations rely on multiple software. Using accounting software, inventory management software and a bit of spreadsheets all at the same time to manage the production process will only make things more complex. A small business ERP system is a single platform that substitutes all the old methods of running your business, ensuring you have centralized control over your business operations.
Your cycle time has increased. As a business owner, you want to make sure you are getting the most bang for the buck you spend on manufacturing your products. If you see that your production process lags at some stages resulting in increased cycle time, this is a sign you need new technology.
Communication problems between departments. Not updating the information your business is working with in real-time results in different departments having access to different and most of the time wrong information. A small business ERP system will store all your business-related data in one place ensuring your staff and yourself can access it anytime from anywhere and when you need it most.
The Takeaways
Digital transformation is taking over the global economy. Regardless of size, all businesses looking to expand and stand out from their competitors will sooner or later be forced to adopt a business digitization strategy. In fact, 70% of organizations have a digital transformation strategy or are working on one (PTC, 2019), and 55% of startups have already adopted a digital business strategy (IDC, 2018). Digitization, one way or another, implies integrating software into a business's everyday operations. And if some businesses have already digitized a part of their processes (CRM, scheduling etc.), others rely on completely outdated forms of business management systems such as spreadsheets or on-premise software solutions.
ERP is a powerful tool that businesses, small and large alike, must embrace to be efficient and stay competitive in the 21st century. That's why Vestra Inet is there to offer its unique solutions to businesses of all sizes. Vestra Inet is a custom software company specializing in the development of custom business software solutions that help businesses become more efficient and stay competitive in the digital age. For over two decades, we have been helping businesses to achieve their goals and compete in the digital age by offering solutions like custom ERP systems, inventory and production management systems and more. If you are ready to take your business to the next level, do not hesitate to schedule a consultation with our experts.