A Complete Guide to Different Types of ERP Systems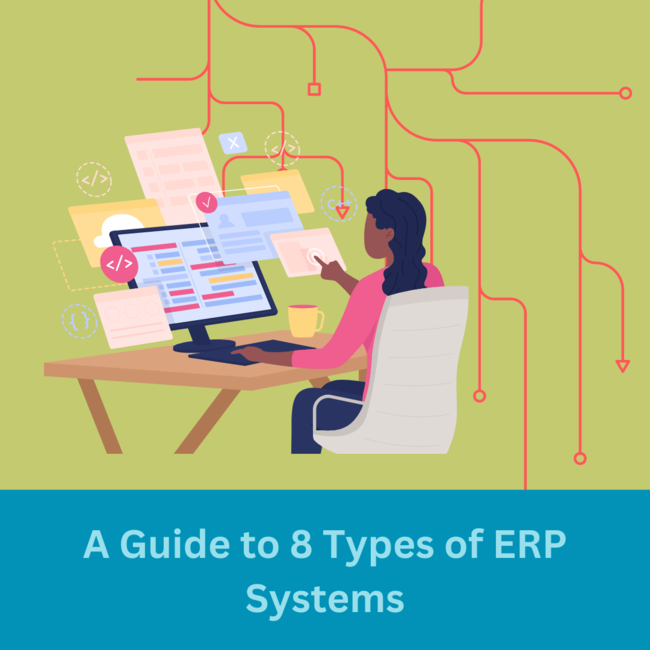 ERP software gained popularity in the last several years. It is known as the system used for streamlining the workflow. However, very few people know about the different types of ERP systems available on the market, the purpose each serves and why one is better than the other. In this blog, we will cover the eight types of ERP systems and explore their features in more detail.
What are the different types of ERP systems?
Ready-made, Custom and Hybrid
Ready-made
Ready-made systems are a great solution for businesses with small operations and medium turnover. Software development companies offer ready-made solutions with pre-selected modules (e.g. finance, CRM, production management) that can satisfy the basic needs of any small to medium size business. It doesn't require much time to install, and employees can quickly get a hang of it.
Custom
Custom ERP has been steadily gaining traction. Companies saw that off-the-shelf software is more of a generic solution to common issues faced across most industries. Thus, it couldn't cater to the specific, narrow-profile needs anymore. So they turned to software development companies that offer tailor made custom ERP solutions.
Hybrid
The hybrid model of ERP combines features of a ready-made system complemented with custom ERP modules or features. This type of ERP is great for those already using some software and who want to boost its functionality with additional custom-built features.

Cloud-based vs. On-premise
When shortlisting your ERP solutions, it is critical to understand the difference between ways the system can be deployed - cloud-based or on-premise.
Cloud-based
Cloud-based ERP software is hosted on vendor's servers. Thus, the only thing the company needs to have access to is the Internet. The implementation costs are relatively easy to estimate as they usually include an upfront installation fee and accompanying costs such as support, training and updates. The technical support is provided by the software development company, so you don't need to hire an IT specialist to handle the system.
The only concern with a cloud-based system is data security. As data storage and management is entirely a vendor's responsibility, make sure you hire a reputable custom software development company with years of experience and good reviews.
On-premise
Unlike cloud-based, on-premise ERP systems are installed on the company's computers. The cost of the software depends on the size of the company and the number of users. The two considerable benefits of on-premise ERPs are the fact that the company has full control over the system and that it gets a fully customized solution that truly works for the business. The major downside of an on-premise system is its cost.
Hybrid
A hybrid solution combines features of an on-premise system where the core processes are installed on the company's computers and a cloud-based solution where data is stored on cloud servers.
Generic vs. Industry-specific
The primary difference between generic and industry-specific software is the extent to which they cater to each individual business.
Generic ERP
This software type caters to the majority of industries out there. The most common pre-built modules of a generic ERP package are finance, inventory, production management and CRM. A generic ERP is generally a great tool for companies cost-wise. You get all the common modules to run a business for a reasonable cost. However, it is likely that you will end up not using all features or may need to request additional ones from the vendor to make up for the missing functionalities.
Industry-specific ERP
This type of software is tailor-made to a niche industry and, most of the time, is custom-made. A custom software development company designs a system from scratch that exactly mimics the operational activities of a business, making this type of software the most cost-efficient.
Choosing an ERP system for your business needs to start with learning about the options available to you on the market followed by narrowing down the list of software providers. If you are more or less settled with the type of ERP system but fear the new software can mess up your workflow, read our blog on eight tips for a seamless ERP integration to ensure the process is as smooth and thought out as possible.