A Detailed Review Of The Limitations Of Off-The-Shelf ERP Software

Enterprise Resource Planning or ERP system caused a lot of buzz in the business world the first time it was introduced. These days, as technology progresses with the crazy pace, ERP software has become more a necessity than an option for most businesses. Moreover, the ERP software itself has evolved and is now available in different configurations, with custom and off-the-shelf being the two main ones.
Unlike custom, off-the-shelf ERP software is widely available for businesses to purchase. A simple research online will reveal a myriad of off-the-shelf solutions ready for purchase. However, businesses should be cautious when choosing off-the-shelf ERP solutions because such systems are not necessarily designed to fit every business and thus have certain limitations. In this article, we are going to explore some of the most common limitations of off-the-shelf ERP software, compare it to custom ERP systems and answer some of the most common questions concerning the off-the-shelf ERP software solutions.
Are there limitations in the off-the-shelf ERP software?
Yes, off-the-shelf ERP software has certain limitations when you look at it as a universal solution for all businesses. Because it is a one-size-fits-all type of software, it often fails to address the specific needs of a business.
Below are all the limitations of off-the-shelf ERP software solutions reviewed in detail:
1. More expensive in the long run
One of the disadvantages of a "canned" ERP system is that it tends to be cheaper to buy and implement but turn out to be more expensive in the long run if you look at the cost of upgrades and the total cost of ownership. Sooner or later, businesses will experience the need to upgrade the software to keep up with the industry trends. When that happens, businesses end up spending additional costs on software upgrades. Adding users will also come at an additional cost.
2. Limited customization options
One major limitation of off-the-shelf ERP software solutions is the fact that they are often difficult to customize. This is a major drawback for businesses as they are not usually aware of this limitation at the initial stages of the ERP implementation process. Off-the-shelf ERP software is often difficult to customize. If customization is possible, it usually comes at a high cost.
If you know in advance that your software will require some customization down the line, count that into the total cost of ownership and compare that with the cost of having your ERP software custom built from the ground up.
3. Costly upgrades
Regardless of the software you choose, you will eventually have to upgrade it. The common problem of the off-the-shelf ERP software solutions is that any new upgrades come at an additional cost. Some companies offer certain support for free, but that support is either very limited or becomes useless as new software versions are introduced.
Another problem with upgrades is that it makes the business dependable on the vendor. If upgrades stop being introduced, the software becomes stagnant and the business will have to look for a new vendor. This is rarely the case with any software, but still something to keep in mind.
One more no less important limitation of the off-the-shelf software is its incompatibility with other software. So, say you have an X software but want to add a Y module. If X and Y are not compatible, you are left with no other option but to buy the Y software, which means your business will now run on two completely different types of software, plus additional software expenses.
4. Limited functionality of features and tools
Off-the-shelf ERP software solutions are built to meet the needs of the mass market, which means the features it comes with have been selected on the same ground. Keep in mind that if you choose to go with a mass-market software, expect to get a lot of features and tools that will most likely be useless for your business.
While this may not be a big deal as long as you get the features you need, remember that you have paid a chuck on money for this software, so if you end up using only a fraction of it, you have essentially wasted your money on features that you don't need. If you want to get the maximum efficiency out of your software, a custom ERP solution may be the best bet in that situation.
5. Limited scalability (if any at all)
If we talk about the benefits of off-the-shelf ERP, there is one major advantage about it - off-the-shelf ERP software is available immediately. Many businesses see this as an advantage because they don't have to wait for months for their software to be designed and then another few months for it to be implemented.
While immediate availability is indeed an advantage, the value of such software boils down to the moment at which it is needed. However, no business is static. As your organization grows, you need to make sure your ERP software can grow with it. With off-the-shelf ERP software, scalability is either limited or is not available at all. This can be a major concern for businesses that scale and need their software to scale with them.
Off-the-shelf vs. custom ERP: what's the difference?
The two major players on the ERP software market are off-the-shelf and custom ERP solutions. And while cost is known to be the primary aspect that makes generic and custom ERP software different from one another, there are other factors to consider in the ERP systems comparison. Here they are: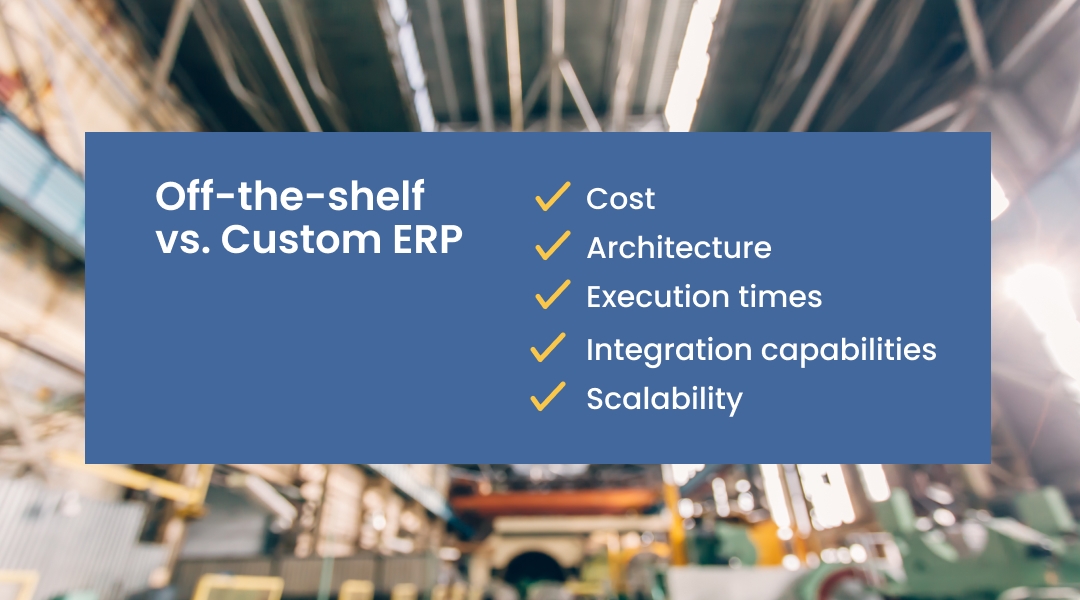 Off-the-shelf ERP software is a pre-built unit with features and modules pre-selected based on the average industry requirements. While financial and inventory management may be the two most needed modules companies look for in an ERP software, there are other modules and features that are as essential for the optimal operation of a business. This is where a custom ERP system kicks in to fill in these gaps.
As mentioned above, an off-the-shelf ERP software is available in the moment. The implementation takes weeks to complete. For some businesses this is highly attractive as they want a quick solution to address some of their most painful issues. On the other hand, targeting issues in isolation will only help resolve them individually and will have little positive impact on the business as a whole. Custom ERP software, in turn, is designed to target all the most problematic aspects of the business, improving its overall functioning across all the departments.
Ability to integrate with other systems
With off-the-shelf ERP software, third-party integration is possible but it is quite expensive and involves numerous licensing and data management difficulties that must be resolved. WIth custom ERP software, integration with existing systems is easier as custom ERP is built to connect with existing software from the get-go.
The ability to scale is what adds to the value of the software product. The capabilities of off-the-shelf ERP software are often limited to the standard features and modules. If you want to add a degree of customization to it, you'll have to inquire from the vendor whether customizations are possible at all. And when they are, they usually come at a pretty high cost. With a custom ERP system, everything is customized, built to your unique business requirements. Adding more features down the line is possible and will not overload the core functionalities.
FAQs
1. What are the disadvantages of off-the-shelf ERP software?
In addition to poor flexibility and scalability, costly upgrades and limited customizations, off-the-shelf ERP software is also a costly affair. While it may seem like the initial off-the-shelf ERP software cost is smaller than that of a fully custom-built software, the total cost of ownership of a readily-available ERP system amounts to a lot more than paid for software initially.
2. What are the key risks of implementing ERP software?
Every ERP software rollout, whether custom-built or purchased from the shelf, bears some risks for the business. Below are some of the most common ones:
Lack of commitment in the team. When you've got a team that's been working for your company for years and have polished their work routine, they can be reluctant to change their work habits.
Data transfer risks. Data transfer makes up a large part of the ERP implementation process. You will need to make sure you are transferring only the data you need as you don't want to clutter your system with unnecessary information. Ensuring all important data is transferred in full and none of it is lost is no less important.
A truly lengthy process. ERP software is not an average software that can be implemented in weeks time, especially if you decide to have a fully customized system. ERP can take between 3 to 18 months to implement. Of course, various factors affect the implementation timelines, but the main point to keep in mind is ERP implementation is a lengthy adventure.
Lack of process management. As we have mentioned above, ERP implementation takes some time. So if you want to avoid all the micromanagement but still want to stay on top of things, you will need to have a dedicated manager oversee the entire software rollout process.
Unplanned customizations. Some ERP features, like financial or inventory management, are considered the core components of a standard ERP system. But there are other features that you may discover along the way and that you might not have planned on, but find them to be necessary for your business. Your vendor will most likely be able to accommodate any changes in the software you may request along the way, but expect a mark-up in your final price and extended deployment timelines. If you want to avoid all this, make sure you have a well thought-out ERP implementation plan.
Lack of training. ERP software is inherently easy to use. However, you should never assume that all your employees are going to know how to use the software without training. What seems like a simple thing to learn for some may be overwhelming for others. Do invest in sufficient employee training to ensure smooth workflow transition and optimal user adoption.
3. What are the most difficult stages of ERP implementation?
The most difficult part of ERP implementation varies from company to company. However, testing and training are known to be the most difficult stages. This is largely due to the fact that there is a lot of communication and feedback involved in the testing and training. Lack of communication and lack of feedback can lead to misunderstandings across the organization as well as between vendor and client leading to extended implementation timelines.
4. What are the typical challenges of implementing an ERP system?
ERP rollout is almost never a smooth process. This applies to both off-the-shelf ERP software and custom-designed solutions. There are always challenges that need to be solved before a business can start reaping the benefits of the new system. Here are the most common challenges that businesses encounter when implementing an ERP system:
Cost. With no plan prepared ahead of time, the final ERP software cost may end up being higher than expected.
Data migration. Risks of data loss during the migration process are always there. Having a well thought-out data migration plan as well as conducting a thorough data analysis will reduce these risks.
Integration with legacy systems. It is important to work with a

dedicated software consultant

to help you identify the point of conflict between the old and new software, to make the transition as smooth as possible and to avoid any major disruptions in the business operations.
Change management. Employee resistance to change is often one of the biggest challenges on the way to new ERP software implementation, be it a mass-market or custom-designed solution. Allocating sufficient time and resources to the change management will help make the transition smoother.
The takeaways
Opting for the one-size-fits-all ERP system to support your business activities may not be the best idea in the long run. Off-the-shelf ERP software is a mass-market solution where the features are built to meet the generic needs of the market.
When businesses are looking for software to optimize their business processes they should be looking for systems that can fully support their business activities and help them run their day-to-day activities. It is very rare for off-the-shelf ERP software solutions to fully satisfy the needs of a particular business.
Businesses looking for the maximum efficiency if their ERP software should consider a fully customized solution that is designed specifically for their needs.