4 Core Components Of An ERP System

If you own a business, you have probably heard of ERP software. In short, it is the type of software that helps business owners manage and oversee a variety of business operations, from accounting and finance to HR and production. Some vendors offer ready-made units that are universal in their nature and fit many organizations. Others create custom ERP systems from scratch to address the very specific needs of a business. Whatever the case, every ERP system needs to come with a set of core ERP components that are essential for an efficient operation of a business. In this blog, we will cover four most common components of an ERP system, touch upon the "auxiliary" ERP modules list, and answer some of the most frequently asked questions about ERP software.
Key components of an ERP system
While every ERP is different, there are a few core ERP components that every ERP system needs to include. They are:
Finances
Inventory management
Human Resources
CRM
Below, we will talk about each of them in detail.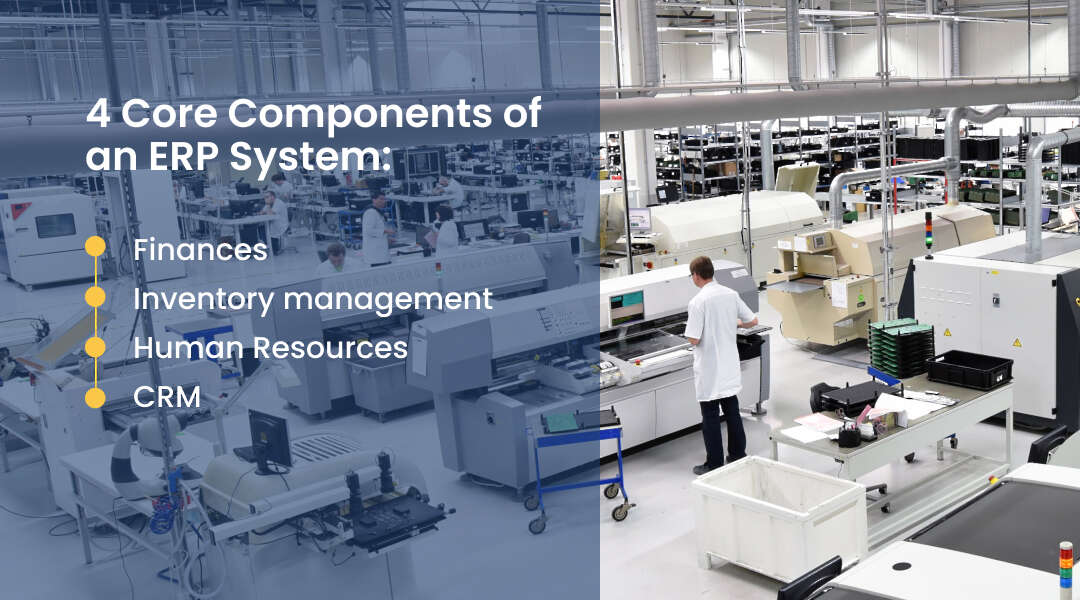 Finances
Financial management is the core activity of any business. Paying salaries and taxes, managing invoices, fulfilling financial commitments to suppliers and vendors - all these activities play a major role in the financial management of every business. Thus, they need to be carried out responsibly and with the utmost precision. Financial module of an ERP system is built to handle all these processes and functions, allowing business managers to have a peace of mind that the financial aspect of their business is under control.
Inventory management
Inventory management is the second most important automation module after the finances. Its main advantage is that it provides real time insight on the company stock levels, allowing business managers to make the right decisions when it is time to restock their inventory.
Inventory management module is crucial for businesses with distribution centers thanks to its revision level tracking, multi-level serial number tracking and SKU sub-modules.
Inventory management ERP module helps solve many challenges which directly or indirectly affect the operations across the entire company.
Human resources
The HR module of an ERP software helps employers effectively manage their human resources, e.g. manage the recruitment process, on and offboarding, monitor tax deductions and automate direct deposits. Without an HR module, all these tasks would have to be completed manually, consuming a lot of time and costing the organization a lot of money.
CRM
Customers are the driving force of any business. Without a stable and constantly growing customer base, companies would struggle to survive, not to mention that they would be unable to make any profit. The CRM module of an ERP system helps businesses track and analyze their customers and adjust the company's marketing strategy if and when needed.
CRM module tracks previous purchases, analyzes wish lists and provides sales managers with recommendations to improve their marketing approach.
CRM module is also a great communication tool that stores all the customers communication history for all new employees to refer to.
What are the extended ERP modules?
ERP is modular in its design. Depending on the vendor and the system's capabilities, you can buy a ready-made system and add business modules in your ERP as you go.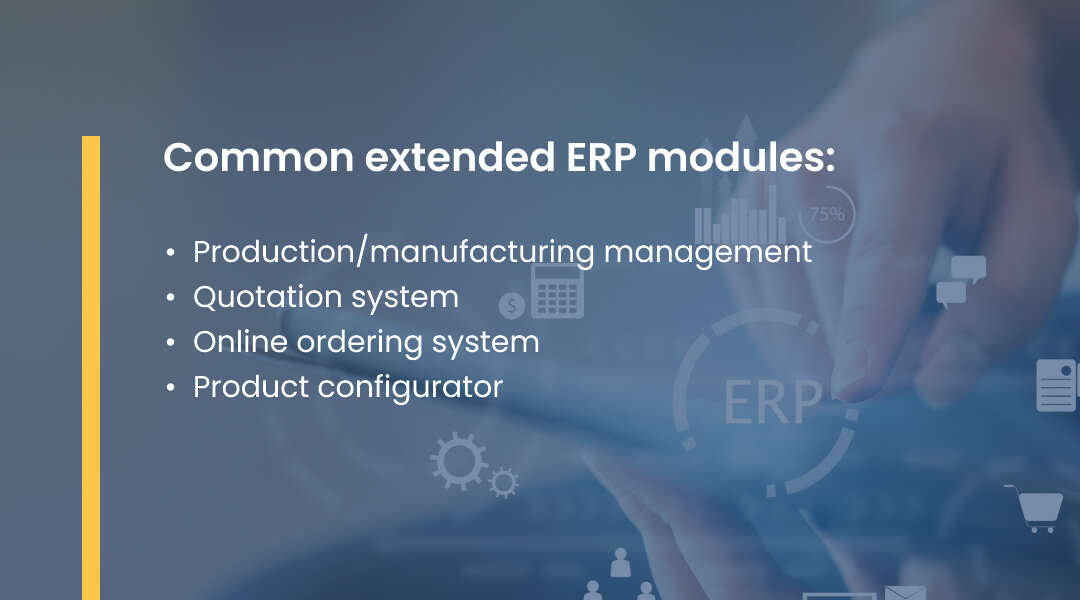 Production/manufacturing management
This module could have easily been included in the core ERP components list. But because not all businesses are manufacturing-oriented, we have put the production/manufacturing management module in the extended ERP components list.
If your business is about producing tangible goods, you will most likely benefit from the module that controls the entire manufacturing process. With a production management module, business owners can easily track the manufacturing process and adjust it in case of order or quality issues.
Quotation system
Some manufacturers provide their customers with an opportunity to customize their products, or order in large volumes. In such cases, it is important that the final price is as accurate as possible, especially if there are a lot of customizations. The idea of a quotation system is to offer an easy way for customers to get the most accurate pricing regardless of the complexity of their order.
Quotation system can come as a part of an ERP system or as a separate module.
Online ordering system
The goal of online ordering system is to simplify the ordering process for customers, especially when it's a B2B type of transaction where orders can be very diverse and placed in bulk. The value of the online ordering system is that it provides a live inventory update, so customers will never place an order for items that are out of stock. It can be easily integrated with the accounting and quote generation system, making customer's experience seamless and hassle-free.
Product configurator
Product configurator brings added value to those who sell custom or configurable products, like furniture, jewelry, etc. It automates the product customization process, eliminating the need to write down order notes and further manually configure the final product in the system. With a product configurator, customers can go online, customize their product and place the order right away.
Product configurators can be easily integrated with quote generation, online ordering and accounting systems.
To Sum Up
The ERP software has proven to be a comprehensive solution beneficial for all businesses, regardless of the size and industry. If you haven't discovered the benefits of ERP yet, now might be the time to.
FAQ
What is the core concept of ERP?
ERP (or Enterprise Resource Planning) is a software that helps companies manage their day-to-day operations. It is a powerful automation tool that eliminates many manually performed tasks while streamlining operations and helping businesses achieve their goals faster. ERP software can be custom-built from scratch or sold as a ready-made unit. Regardless of the delivery method, there are core ERP components that every ERP needs to have in order to be called an ERP system.
What are the four dimensions of ERP software scalability?
One good way to determine what ERP modules best for your business is to analyze and compare its scalability. Why exactly scalability? Because this aspect determines how viable the ERP software and particular ERP modules are in the case if you need to scale your operations. The scalability is measured in four dimensions: utilization, user count, platform and functionality.
Utilization defines how the software can handle the increase in operational activity (for instance, data increase)
User count defines whether the software is capable to accommodate the increase in the number of users. It also looks at whether the system allows customization of user access, e.g. allowing certain users to access only the data their access is restricted to.
Platform - is the ERP software compatible with the OS on which it is installed?
Functionality looks at whether the software can expand across different business functions, simultaneously and without compromising the quality of the output.
What are the most common applications of ERP?
ERP is widely utilized by businesses in manufacturing, metalworking, logistics and transportation, distribution, food and beverages, healthcare, oil and gas, automotive and many other industries. These industries can equally benefit from core components of ERP. Extended ERP modules are added depending on the particular needs of every company.