Promoting Local SEO for Toronto Businesses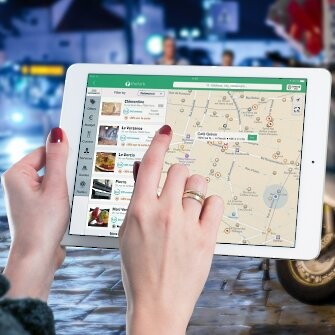 SEO in Toronto is becoming a bigger and more important factor for Toronto businesses. Local SEO has many benefits, as it helps boost your local presence. Gone are the days of the phonebook, nowadays a business needs to be listed locally on the largest directory there is, Google. Reaching new clients, and making your local presence known is of key importance for SEO in Toronto. Especially in larger cities where you can be lost among the competition, it's very important to focus on boosting your local SEO. If you're wondering why you should make the jump and focus on local SEO, below and three reasons as to why local SEO in Toronto will help boost your business' visibility and presence in the online marketplace for your local customers.
1. Customers On the Go
There was a short amount of time, not too long ago, when an automotive GPS was a feature in many cars on the road. By punching in an address, you could go anywhere without having to pull out a large map. The market for GPS machines has been rapdily shrinking though, as Google Maps has dominated the market for GPS tracking and roadside guidance. On top of that, anyone can find the business directly by searching within Google Maps, rather than looking up an address on a different application or device. If you're unfindable on Google Maps you'll be missing out on potential customers who need solutions fast. With a couple taps on a mobile device anyone can find exactly what they need with Google Maps, and be there in a short amount of time. Beat out competition by investing in SEO for your Toronto business. By boosting local SEO anyone in your vicinity will find you over the competition when they search on Google Maps. On top of that, they will find you easily and without any hassle. The more time a customer takes to find you, the less likely they are to make the effort. Make finding your business effortless with local SEO.
2. Get Local Customers
It's difficult to serve an entire country, but with local SEO in Toronto you can target Toronto customers specifically. Rather than competing with a huge list of companies across the country, focus in on your local competition, and reach the customers who are searching for you. Be the top search result in your vicinity, and get relevant customers. If you can't deliver products or services outside your area, local SEO in Toronto is ideal as it prioritizes the vicinity you can control. Take back your area and invest in local SEO that targets the most important customers, the real buyers who are in your area that you can sell to right away.
3. Start Small and Grow with Your Campaign
Sometimes it's best to start small, and grow once you've reached the first milestone. By targetting local SEO in Toronto specifically, you can make your business the number one search result for your city. By beating out the competition on a smaller scale, you can begin to compete with a larger and larger list, until you're number one in the country. Grow your business alongside your SEO campaign, and take on Canada by beginning with Toronto. No one becomes the top company in a country overnight, but by building your foundation outward slowly, you will have a sturdier base than if you tackle Canada from the get-go. By focusing on becoming number one for your vicinity you can ensure concrete business for your region, and then begin to take on larger and larger areas as you can afford it.