our projects
D&R Truck Stor

Truck-Stor is a sister company to the D&R Electronics company. It outfits trucks with storage units and compartments. All types of trucks can be outfitted using their products, regardless of their brand or type. They make compartments and organizers for all sizes and models of work trucks. Customers using their trucks for multiple situations can order their components with Truck-stor.
Key Features
Custom product builder
Part compatibility advisor
Online order system
Advanced custom configuration selector
Complete online ordering system
Parts compatibility list based on vehicle type
Truck size selection and customization
The problem with Truck-Stor was that customers had to place their orders over the phone or manually. There was no online ordering system and no way of selecting products online. Compatibility for different truck types, sizes, and models was not shown to customers. There was also no ecommerce system in place, and all the orders were processed manually, which was quite inefficient.
Schedule a consultation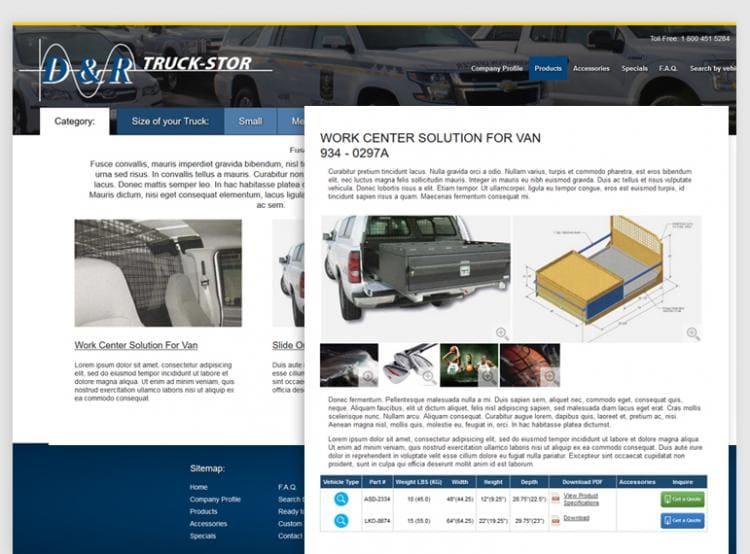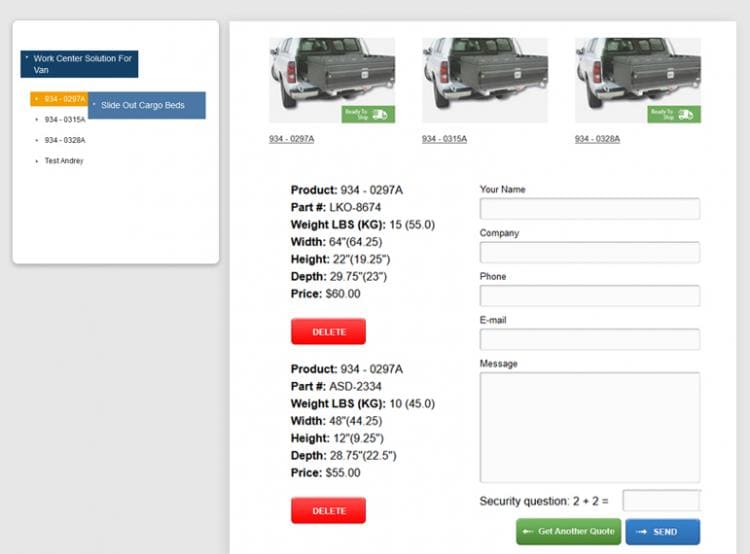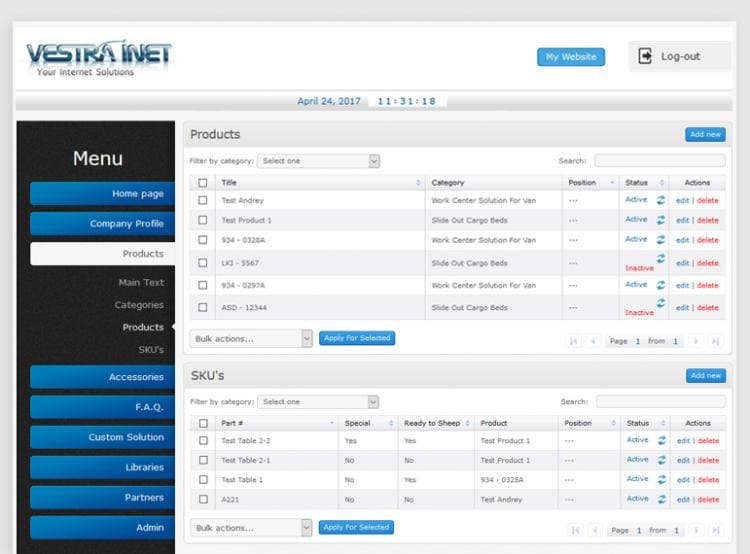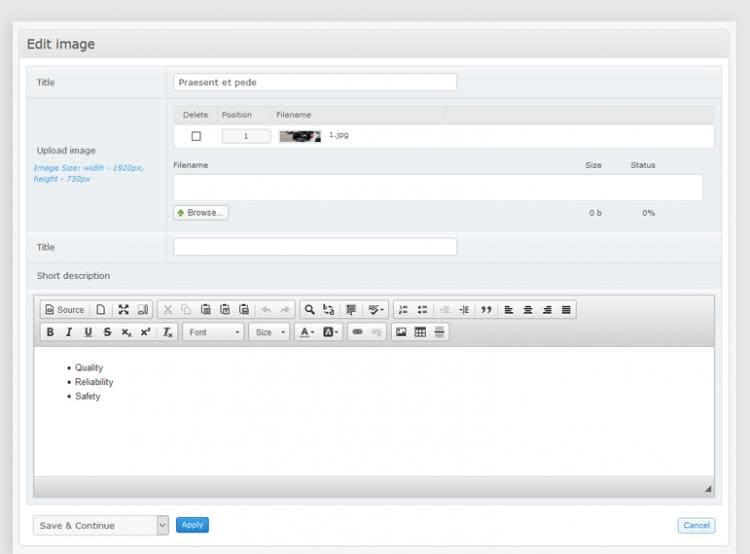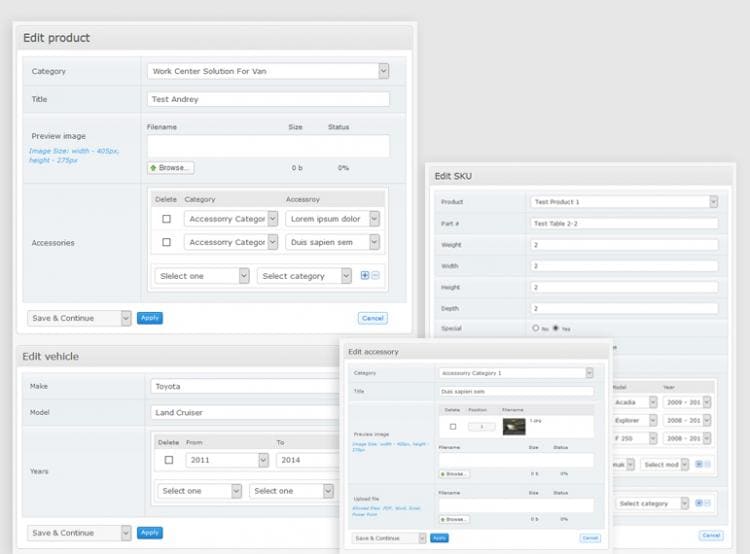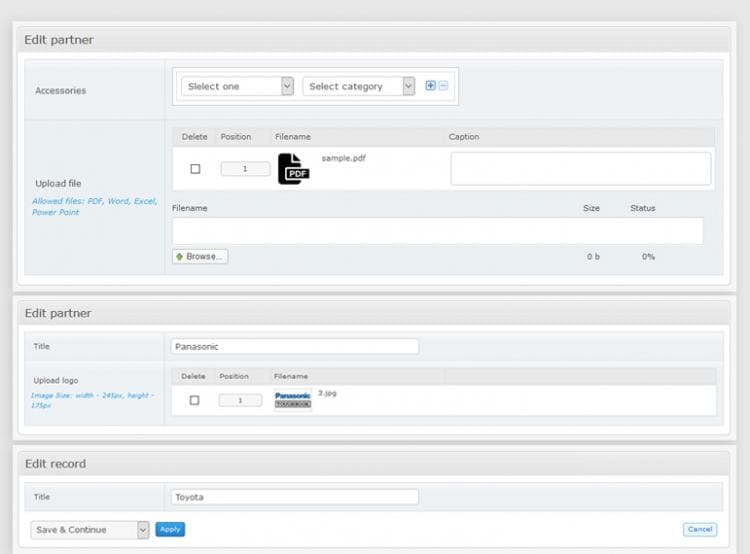 Type of Systems Used in Project
Online Ordering System
Live inventory updates
Custom price margins
Quantity discounts
Development and implementation of these online ordering systems leads to seamless end-to-end order placement that significantly improves the ease of the process. Additionally, the elimination of human involvement in the ordering process reduces staffing costs, eradicates the risk of human errors, and makes the ordering systems available 24/7. Special calculator integration also drastically boosts the speed with which large, complex orders are placed and processed. The automation of this system helps reduce supply chain complexity while allowing multi-stage customizations with ease.
Compatibility Advisor
Multi-system integration capabilities
Stage-to-stage item selection
Automatic filter generation
Compatibility advisors display relevant results to users. During inventory searches or product assembly, predetermined filter parameters display relevant content based on the previous selection. The parameters for filters are updated either automatically upon product addition, or manually based on situational requirements. These tools were designed for multiple applications including:
Interactive product assembly and component selection: Users building products using online tools would only see content relevant to their current selection. The predefined parameters eliminate the possibility of errors in the product assembly process due to automatic filtering of incompatible items as product building progresses from one stage to the next. This ensures accuracy during the process by eliminating human involvement from item recommendations.
Inventory management and catalogue: The implementation of such advisors significantly improves the organization of products within an inventory or catalogue for added accessibility while browsing. In special circumstances (eg: North American Steel) these filters assisted in the classification of assemblies and components based on their compatibility with each other.
Online Catalogue
Multi-system integration
Complex item relationships
Automatic SKU generation
Having large inventories consisting of thousands of items with different variants and combinations leads to organizational issues. One of the obstacles faced by clients is the presentation of these listings to customers. Appropriate relationships between items of different compatibility settings are critical to a smooth user experience when navigating the product listings. Additionally, identification of unique items and combinations is essential where products are modified with infinite combinations of components. Effective search functionality within such an inventory is crucial to ensure user satisfaction.
Based on individual requirements, online catalogues were implemented for various clients. These systems were implemented alongside multiple systems and databases. Integration was supported with existing systems such as inventory control, production management, e-commerce platforms, and more. Various complex relationships were defined between items and their components to ensure compatibility. Additionally, online product builders were designed and implemented as required. In these cases, every uniquely designed item variant could be automatically added to the existing catalogue with a unique automatically assigned SKU number, creating self-propagating catalogues. Other features such as table builders (one product - multiple SKUs) and compatibility filters were also designed.
What customers say about us
Recent

Reviews
View all