our projects
TMS Lighting

A staple in the industrial lighting business for nearly a century, TMS Lighting takes great pride in its quality fixtures. With a focus on constant innovation, the company has provided cutting-edge commercial lighting solutions for numerous public and private spaces such as offices, health clubs, parks, streets, and more. Based out of Brampton, Ontario, TMS Lighting follows through with its commitment to innovation in its manufacturing facility as well, utilizing state-of-the-art equipment to deliver exceptional results.
Key Features
Online Product Configurator
Sequential Part Number Assembly
Product Development Portal
Customized Online Quotation
Project Customization Portal
TMS Lighting handles wholesale lighting projects for various clients, facilitated by agents/vendors who are affiliated with the company. In this B2B form of business operation, the clients approach the agents with their specific request, which is then relayed to the manufacturing facility. To do this effectively, a system was required where the agents can configure the exact specifications of the client with minimal trial and error. Thus, an online product configurator was devised where the agents can change various aspects of a light fixture online such as diameter, illumination, finish, voltage, and more.
Once the customization is complete, it can be saved as a project by the agent. Furthermore, the system also required a variable price range for different clients, depending on their location and the prices of the raw material that are used in making these fixtures. This was made possible with a price-calculating feature. Furthermore, the company needed to provide exclusive configuration access to its agents, which was achieved with a dedicated login for the vendors.
Moreover, once the customization is complete, the system also creates a sequential part number, which makes it easier to keep track of various components and consequently minimizes errors.
Additionally, once a model has been created, the agent was required to show the design and price quotation to the client for approval. Thus, this necessitated a customized online quotation feature that the agent can share with the prospective client through various channels. Once the design, prices, and quantity have been approved, the order is forwarded to TMS Lighting's manufacturing facility.
Lastly, for prospective clients willing to contact an agent for a new project, the company also required an agent locator feature that will intimate the user about the different locations of vendors across North America, segregated by region.
Thus, TMS Lighting operates a robust B2B system that fulfills the specific requirements of its clients while maintaining excellent quality and customer service.
Schedule a consultation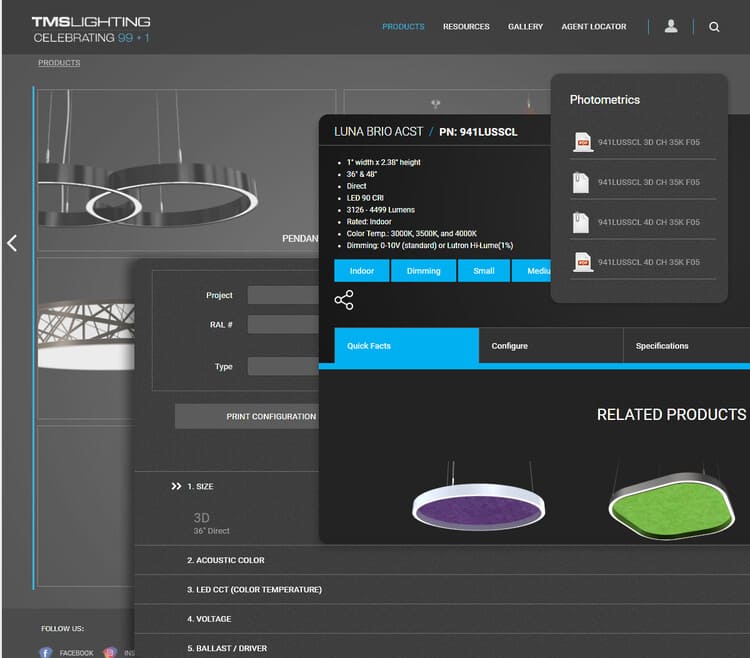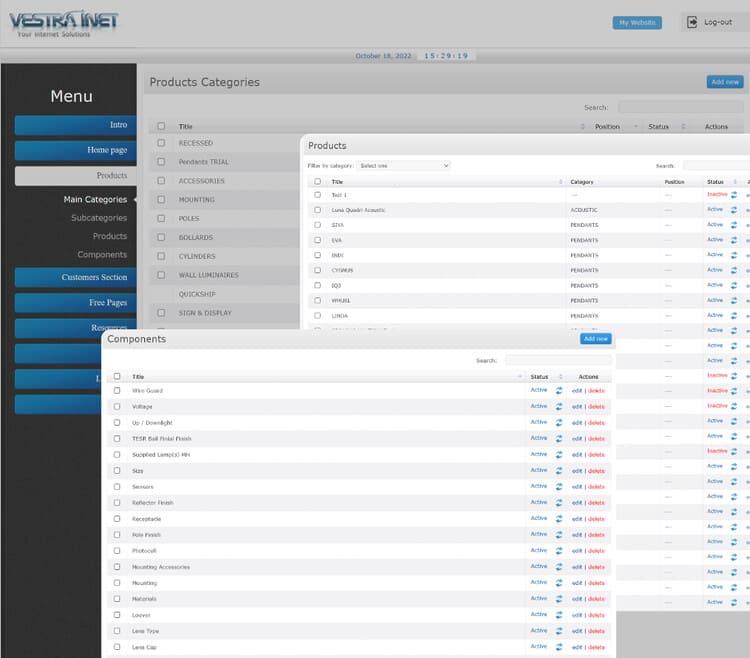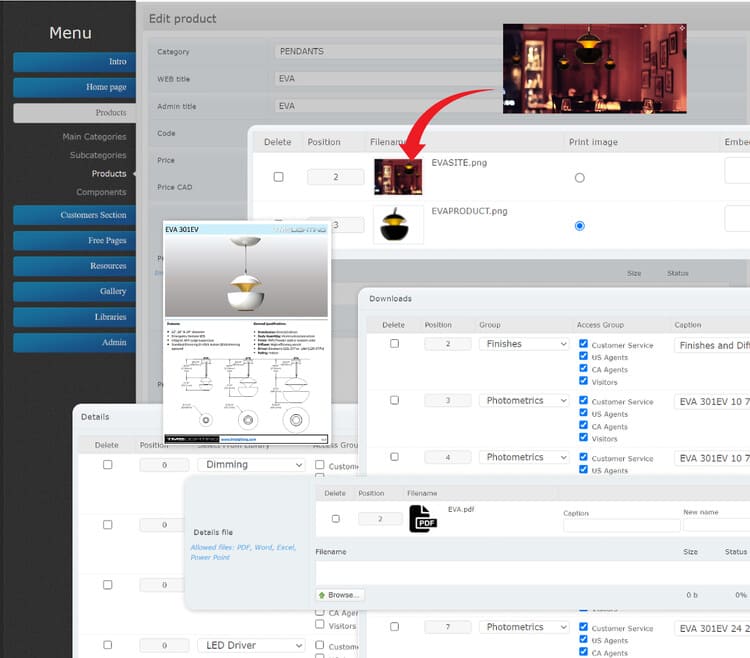 Type of Systems Used in Project
Online Ordering System
Live inventory updates
Custom price margins
Quantity discounts
Development and implementation of these online ordering systems leads to seamless end-to-end order placement that significantly improves the ease of the process. Additionally, the elimination of human involvement in the ordering process reduces staffing costs, eradicates the risk of human errors, and makes the ordering systems available 24/7. Special calculator integration also drastically boosts the speed with which large, complex orders are placed and processed. The automation of this system helps reduce supply chain complexity while allowing multi-stage customizations with ease.
Product Configurator
Real-time product view
Automatic SKU generation
Multiple-stage customization
Quote generation integration
Custom compatibility filters
Product configuration software is a smart tool that allows your customers to accurately configure products to the smallest detail before ordering them. We design custom product configuration systems to intelligently guide users in a step-by-step process, ending up with their desired product. Product modifications can be visualized in real time, enabling your customers to see the unit as each element or detail is added or deleted. This feature also enables your customers to preview the product before placing an order, giving you confidence that your customers get a positive post-purchase impression and will come to you for more business.
When we build product configurators, we account for compatibility filters and exceptions that apply automatically as your client customizes the product, ensuring incompatible or irrelevant elements are not displayed during configuration. This accounts for your unique assembly process so that your customers can be guided through the product assembly without live agent involvement.
Product configurator can be integrated with a custom quote generator feature so your customers can create a quote and adjust it at any time before placing the order. Once the product is fully configured, the system can automatically generate a unique SKU, ensuring your customer's order details are secure and error-free and the product your client receives in the end is exactly what they ordered.
Price Calculator
Real-time complex calculations
Multi-system integration
Custom price margins
Price calculators with advanced capabilities met unique situations where complicated calculations involving multiple variables were required. The functionality of the calculators varied based on client needs, with features like quantity-based discounts, price margin management, additional options, and real-time updates to the displayed price. These calculator tools were implemented into various client systems including product builders, online ordering systems, and assembly selection. Depending on requirements, additional functionality to set custom price margins was programmed. Additionally, personalized pricing information was displayed to individual users based on order history and other predetermined factors.
Each pricing calculator was designed to meet specific criteria for each client. These custom systems were designed to adapt to the unique needs of each business and its specialized operations, with the ability to adapt to multiple complex variables in real-time. This greatly improved user satisfaction due to immediate results when making item selections or building products online. Designed to be integrated into multiple client systems, these calculators met exact requirements in terms of customizability and functionality. Custom price margins enabled users with administrative access to define parameters such as quantity-based discounts, promotional offers, individual product price margins, and more. This resulted in a more personalized pricing information display for users.
Automated Mailing System
Scheduling
Custom notifications
Internal broadcast systems
Automated mailing systems improve the efficiency of communications between clients, customers and employees. Clients could automatically send quotes, promotions and more to individual customers or groups. Scheduling functionality improved organizational capabilities in large customer databases. Custom notifications informed various parties of upcoming events and promotions.
In addition to the mailing systems, internal communications were made more effective through the design of internal broadcast systems which displayed announcements and information company-wide using audiovisual technology. These systems could be used for production management, employee communication and more.
PDF Generator
Automatic PDF generator
Picture-to-PDF conversion & Searchable PDF
Generate PDF for product configurator
Modern websites have dynamic pages where the information that is displayed is generated from databases based on input from different systems such as product builders, ordering systems, e-commerce platforms, and more. However, there are situations where this data must be saved or printed. Examples of these situations include invoices, order information, shipping details, inventory data, performance statistics etc. The most common format to save the data in is PDF.
Automatic PDF generators were designed to store this unique information for later reference and put it into a more accessible format for emailing, printouts or backups. In unique situations, scanned images were converted to searchable text in PDF format to facilitate navigation through archives with large quantities of scanned information and documents.
User Accounts and Logins
Dedicated login spaces
Allow and prevent access
Brings multiple systems together
User accounts grant controllable access to specific features within a system. Dedicated login spaces for various user types included multiple specialized features to meet specific requirements. Access control features permitted accounts with administrative access to limit users to specific information and resources within these spaces. Additionally, unique data such as resources, items, products, offers, and dedicated pricing information could be displayed within accounts.
What customers say about us
Recent

Reviews
View all